Grocery E-Shopping Competition Analysis in the UK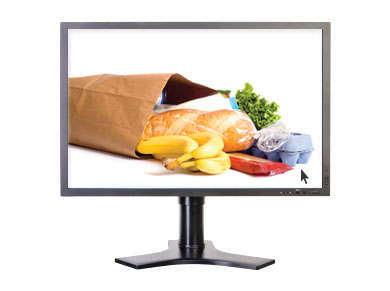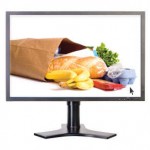 To be able to secure a customer, the need to understand the personal preferences and the decision making process of a customer is essential in addition to being able to link this to grocery e-shopping process. The concept then moves a step further with the company not just trying to market a product or service in store but convincing the customer that online shopping is not only available but is available as an option. This process allows the company to identify a unique selling point.
Over the years grocery retailers have looked to create their individual selling points and incorporated a great deal of diversification to allow for some type of advantage. Tesco for example has responded and taken advantage of major changes in lifestyle patterns, and this is a key to its ongoing success. Tesco alone has generated more than two fifths of total sector sales capturing 12% of the sector. (Mintel 2009) In addition 'Tesco as well as Asda have provided fantastic online offerings, making it easy for consumers to find and buy their groceries online," said managing director of MyVoucherCodes.co.uk, Mark Pearson'. (http://www.utalkmarketing.com)
Another contender in the retail market is Ocado which started trading in 2002 and is now one of Britain's leading online grocers. As said in the afore-mentioned Ocado's centralised system of distribution means it doesn't need a network of stores to reach is customers. Ocado is the online grocery company that resells branded items, in addition to its own small range of own-brand goods and a wide selection of own-brand goods from the upmarket supermarket grocer, Waitrose. Ocado also has its green credential:
Having its vans deliver the customers groceries generates less CO2 than walking to the local Tesco.
It also collects and recycles customers' unwanted plastic bags, sources biodiesel for fuel (vegetable fats produced by UK growers.
Ocado has also enjoyed a 4% rise in share of sales compared to sales mid-2009. It has also delivered a 25 percent rise in gross sales to £427.3 million in the year 2009, reports the Financial Times. (http://www.utalkmarketing.com/) The figure below also helps to highlight the most popular supermarkets which allow you to buy your groceries online based on share of sales statistics* through MyVoucherCodes.co.uk which are as follows: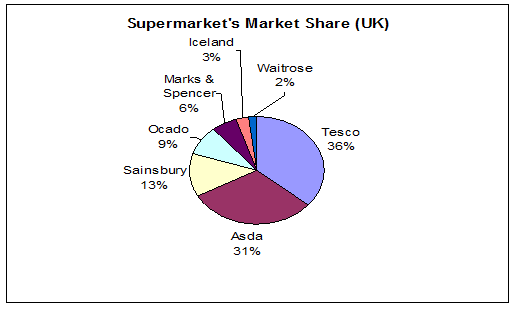 Evidently the success of the stores appears to have a significant correlation with the popularity of each retailer. Frozen food specialists Iceland, despite the fact they no longer offer online grocery as a service is more popular online than Waitrose, which saw a sales share decrease of 2%. Although Ocado is in a unique position, Tesco has remained the dominant online grocery retail brand with Asda's playing itself off against Tesco as the cheapest supermarket although Tesco's grip of the top spot appears to be reducing.
And as one of the countries no longer in a recession it is expected UKconsumers will continue to use the Internet to find the best ways to save money on their groceries.  (http://www.utalkmarketing.com/) Although these large retailers are constantly making substantial investments into the electronic retailing market it is greatly uncertain how these technologies will assist in the quest for competitive and market advantage.
---
---