Hilton Hotels Marketing Mix – 7Ps of Marketing
Hilton's 7Ps of marketing comprises elements of Hilton Hotels marketing mix that consists of product, place, price, promotion, process, people and physical evidence.
Product Element of Hilton Hotels Marketing Mix
Hilton Hotels and Resorts can be classified as a full service hotel. Accordingly, the range of its services is extensive and includes meeting, wedding and banquet facilities and special event services, restaurants and lounges, food and beverage services, swimming pools, gift shops, retail facilities and other services.
Generally, products are divided into three levels: core, facilitating and supporting products.
Core products can be explained as a basic form of a product. To put it simply, core products are the main reasons for customers purchasing from a business. For Hilton Hotels & Resorts core product is hotel rooms that customers stay in for a specific period of time. Peripheral services can be explained as additional products and services above the core product that businesses offer to get competitive edge in the marketplace.
Facilitating products involve services that assist consumers in consumption of core products. Hilton offers a set of popular facilitating products such as customer services, bars and restaurants, and online reservation facilities.
Supporting products include additional products and services that are offered in order to obtain competitive advantage for the business by increasing the value of core products and services. A range of supporting products offered by Hilton Hotels include 24/7 room service, free newspapers and magazines for business travellers, concierge services etc.
Augmented product is benefit offer made by businesses that consist of core product and peripheral services. Augmented products offered by Hilton Hotels & Resorts include membership discounts, luxurious room and exterior designs, high class restaurants and relaxed hotel atmosphere.
Place Element of Hilton Hotels Marketing Mix
The ultimate aim of the distribution strategy for a hotel firm can be specified as making available the products and services to consumers where, when and how they prefer them. Hilton Worldwide serves guests operating more than 745,000 rooms in more than 100 countries and territories.[1] Hilton Hotels & Resorts brand in particular operates 206,635 rooms in 85 countries and territories.
Hilton Hotels & Resorts distribution strategy heavily relies on information technology and internet in various formats. Firstly, the official website of the company serves as an effective platform for service distribution as it is supplied with a wide range of features and capabilities providing practical assistance to customers such as booking a room, planning events and weddings, scheduling meetings and booking airport pick-ups.
Moreover, the distribution of Hilton Hotels & Resorts products and services is also facilitated through mobile convenient applications made available for IPhone and Android platforms. Social media is adapted as another effective instrument by Hilton Hotels & Resorts in distribution of its products and services.
The main reason behind the selection of internet platform as the base of Hilton Hotels & Resorts distribution strategy relates to a wide range of conveniences associated with internet. Specifically, internet presents Hilton Hotels & Resorts customers with the possibilities of purchasing products and services in advance on the go and within a timeframe of a few seconds.
Price Element of Hilton Hotels Marketing Mix
Pricing strategies used by businesses can be divided into four broad categories within the framework of Pricing Strategy Matrix: economy, penetration, skimming and premium pricing strategies.
Economy pricing strategy involves selling products of basic features and characteristics to consumers with low budgets. Penetration pricing strategy, on the other hand, involves offering high quality products and services in low prices than the competition in order to increase market share.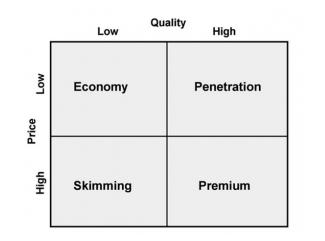 Figure 1 Pricing Strategy Matrix
Skimming, as a pricing strategy is opposite to penetration in a way that products and services are offered for a higher price levels than the competition. The main rationale for the choice of skimming pricing strategy may include the desire to associate products or services with exclusiveness and a high quality.
Premium pricing strategy involves charging high level prices for products and services that are perceived to have excellent quality and additional characteristics and features. As it is illustrated in Figure 2, the majority of rooms owned by Hilton Worldwide belong to upper upscale and upscale pricing categories. Accordingly, on the basis of classification above the type of pricing strategy adopted by Hilton Hotels & Resorts can be specified as premium. Hilton only offers five star and four star rooms and the company is able to charge its customers at premium levels because beyond the core product, Hilton also 'sells' a set of intangible benefits such as sense of achievement, high status and luxury.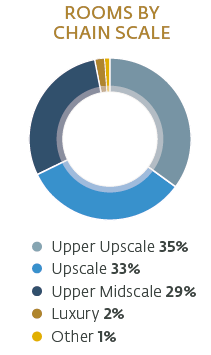 Figure 2 Pricing classification of Hilton Worldwide hotel rooms[2]
Hilton Worldwide Holdings Inc. Report contains a detailed discussion of Hilton Hotels marketing mix along with a detailed analysis of Hilton's marketing strategy. The report also illustrates the application of the major analytical strategic frameworks in business studies such as SWOT, PESTEL, Porter's Five Forces, Value Chain analysis and McKinsey 7S Model on Hilton. Moreover, the report contains analysis of Hilton's leadership and organizational structure and discusses the issues of corporate social responsibility.

[1]Annual Report (2015) Hilton Worldwide
[2]Annual Report (2015) Hilton Worldwide
---
---