SWOT is an acronym that stands for strengths, weaknesses, opportunities and threats related to businesses. The following table illustrates Hilton SWOT analysis
Strengths

1.      Extensive experience and a vast scope of the business

2.      Effective customer retention schemes

3.      strong property portfolio

4.      Strong and effective leadership by Christopher Nassetta

5.      A high level of service customatisation  achieved via technological integration

Weaknesses

1.      Overdependence on the US market

2.      High levels of debts

3.      Little global market share, despite the large portfolio of brands

4.      Lack of flexibility due to its large size

Opportunities

1.      Further International market expansion

2.      Formation of strategic alliances

3.      Focusing on research and development

4.      Establishing presence in the mid-level budget hotel sector

Threats

1.      Threat of terrorism and political instability

2.      Adverse changes in macroeconomic climate

3.      Ethics-related issuesin Hilton hotels

4.      Loss of key talent and key personnel
Strengths
1. Hilton Worldwide comprises 13 brands including well-known brands such as Hilton Hotels and Resorts, Waldorf Astoria, Conrad, Double Tree, Embassy Suites and others. Hilton Worldwide served more than 140 million guests in more than 100 countries and territories in 2015 alone.[1] Due to the large scope of its business operations, the company benefits from the economies of scale to a considerable extent, creating the potential for further growth of the business.
2. Hilton offers one of the best customer loyalty schemes in the industry represented by Hilton HHonors program. Wide range of benefits offered by the program includes discounted prices, digital check-in, free internet access, late check-out and others. These benefits are greatly appreciated by customers and there are more than 50 million Hilton HHonors members worldwide.[2]
3. Hilton Worldwide owns 4610 properties around the globe.[3] An extensive property ownership is a major strengths from the financial point of view. Property ownership reduces operational costs via eliminating the need to pay rent or lease on owned properties. Moreover, properties can be assigned the role of insurance or cushion to a certain extent in a way that the company can sell a fraction of its properties to stay away from bankruptcy in times of crises and economic uncertainties.
4. Strong and effective leadership by Hilton President and CEO Christophe Nassetta is major strength associated with the brand. Since assuming the top role in 2007, Nassetta turned around the declining business in an effective manner via a range of initiatives that include enhancing the corporate culture, engaging in cost-cutting, achieving synergy via integrating individual businesses within Hilton portfolio and others. Importantly, Nassetta's ideas for the business are far from being fully exploited and this further increases the future growth potential of het business.
5. Hilton has effectively achieved a high level of service customatisation via technological integration. These include partnership with Uber to create a seamless travel experience for customers, introduction of digital hotel room keys integrated into customer smartphones, an ability to select rooms and customize the hospitality experience using smartphones and others. Although other hotel chains appears to be following this suit, Hilton still retains the first mover advantage in this important direction.
Weaknesses
1. Overdependence on its US home market is Hilton's major weakness. As it is illustrated in Figure 2 below, about 80 per cent of revenues are generated in the US and only 6 per cent of revenues are currently generated from the strategically important market of Asia Pacific. The current situation makes the company highly vulnerable to market slowdown and intensifying competition in the US.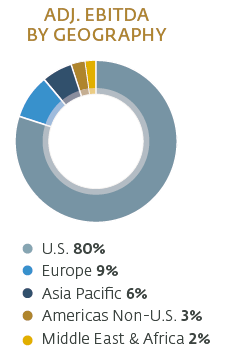 Geographic segmentation of Hilton Worldwide revenues[4]
2. A High level of debt is another point of weakness associated with Hilton. As of December 2015, Hilton Worldwide had a debt of 5 billion, including USD726 million of non-recourse debt[5]. Although CEO Nessetta did a good job in reducing debts from about USD 20 billion in 2007 to its current level via achieving restructuring and increasing revenues, this level of debt large enough to threaten the future of the business…
Hilton Worldwide Holdings Inc. Report  contains the full discussion of Hilton SWOT analysis. The report also illustrates the application of the major analytical strategic frameworks in business studies such as PESTEL, Porter's Five Forces, Value Chain analysis and McKinsey 7S Model on Hilton. Moreover, the report contains analysis of Hilton's marketing strategy, its leadership and organizational structure and discusses the issues of corporate social responsibility.

[1]Annual Report (2015) Hilton Worldwide
[2]Annual Report (2015) Hilton Worldwide
[3]Annual Report (2015) Hilton Worldwide
[4]Annual Report (2015) Hilton Worldwide
[5]Annual Report (2015) Hilton Worldwide
---
---