IKEA Marketing Mix (IKEA 7Ps of Marketing)
IKEA 7Ps of marketing comprises elements of the marketing mix that consists of product, place, price, promotion, process, people and physical evidence. The furniture retailer places greater emphasis on the price element of the marketing mix over other elements due to cost advantage business strategy it pursues.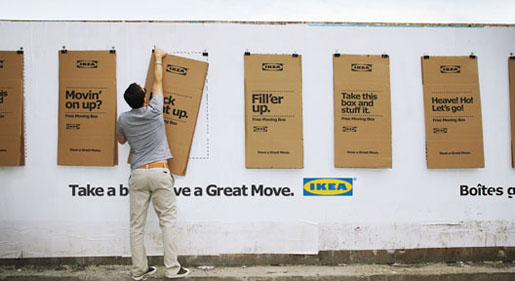 Product Element in IKEA Marketing Mix
There are nearly 12000 products across IKEA range and the company renews its product range annually. The company develops approximately 2000 new products each year. IKEA products are designed by its in-house, as well as, contracted designers.  IKEA promotes the idea of democratic design. The furniture maker adheres to the following five dimensions of democratic design: form, quality, function, sustainability and low price.  IKEA products are associated with no-frills simplicity to sustain its cost leadership business strategy.
Furthermore, some of IKEA products such as furniture are not assembled and ready to use by customer. Instead, the retail giant prefers to sell large furniture items as flat pack and customers have to assemble furniture themselves according to clear guidelines and illustrative instructions supplied by the company.  Selling products in flat pack form immensely contributes to cost leadership business strategy because it is much cheaper to transport and store flat packs than ready assembled items.
Place Element in IKEA 7Ps of Marketing
IKEA has 11 franchisees operating in more than 500 locations in 63 countries.[1] The Swedish furniture chain promotes itself as a multi-channel retailer effectively integrating online and offline sales channels. Currently IKEA is concentrating on smaller city-centre stores and planning studios for kitchens, as the world's largest furniture retailer tries to decrease its dependence on selling only through giant out-of-town warehouses.
Price Element in IKEA Marketing Mix 
IKEA pricing strategy integrates the following:
1. Cost leadership. Competitive costs are placed at the core of IKEA pricing strategy. The company aims to offer its products "at prices so low that as many people as possible will be able to afford them"[2]. The home improvement and furnishing chain is able to maintain its low prices due to the economies of scale the company benefits from in the global level. Selling large furniture items as flat pack, instead of ready assembled products is one of the main enabling factors for price reduction for the world's largest furniture retailer.
2. Psychological pricing. Psychological pricing also represents an important aspect of IKEA pricing strategy in a way that the retailer appeals to emotional, rather than rational side of customer decision-making. Accordingly, IKEA applies Price Point Perspective (PPP) 0.99 Cents instead of 1 US Dollar for the majority of its products. For example, as of June 2022, SOLVINDEN string light costs USD 12,99 and LISABO dining table has a price tag of USD 199,00.
3. Geographical pricing. IKEA uses geographical pricing and accordingly, there are price variations between different locations of the home improvement and furnishing chain. Pricing level in any given market depends on a wide range of factors such as competitive environment, costs of raw materials, cost of labour and others.
IKEA Group Report contains a full analysis of IKEA marketing mix (IKEA 7Ps of marketing) and IKEA marketing strategy in general. The report illustrates the application of the major analytical strategic frameworks in business studies such as SWOT, PESTEL, Porter's Five Forces, Value Chain analysis, Ansoff Matrix and McKinsey 7S Model on IKEA. Moreover, the report contains analyses of IKEA leadership, organizational structure and organizational culture. The report also comprises discussions of IKEA business strategy, ecosystem and addresses issues of corporate social responsibility.

[1] Inter IKEA Holding B.V. Annual report FY21 
[2] Group Yearly Summary (2017) IKEA Group
---
---