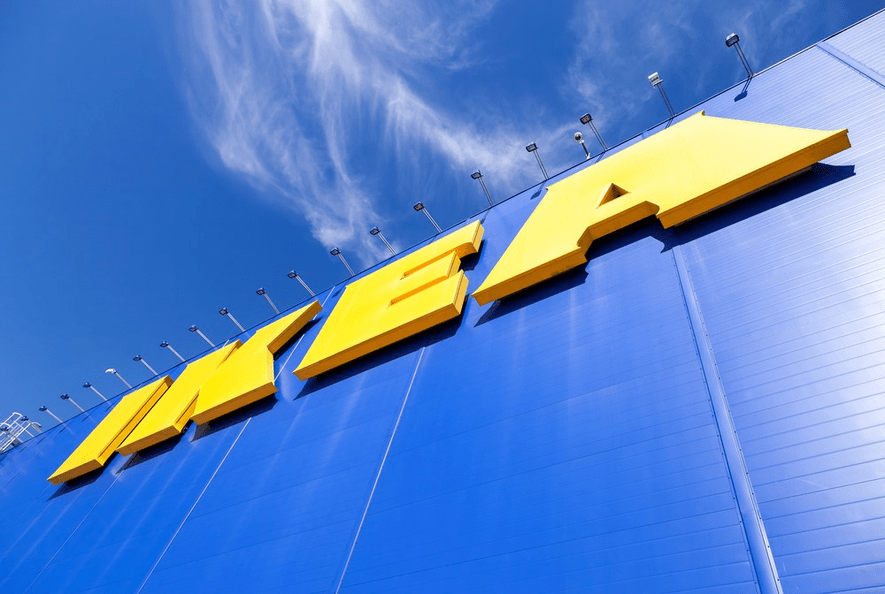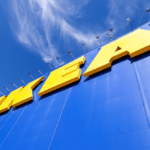 IKEA marketing communication mix integrates the application of individual marketing communication channels such as print and media advertising, sales promotions, events and experiences, public relations and direct marketing.
Advertising
IKEA relies on print and media advertising as one of its main marketing strategies to deliver its marketing message to the target customer segment. The company collaborates with a range of popular journals and magazines and TV channels globally for this purpose.
The home improvement and furnishing chain has effectively integrated the elements of creativity in its print and media advertising a number of times. For example, billboard-fitted wardrobes were placed by IKEA in selected outdoor locations in Vienna. People passing by were encouraged to slide its door open to assess IKEA's solutions to fit many items into the wardrobe.[1]
Another instance of application of creativity in print advertising by IKEA relates to the publication of its more than 200 million catalogues in 2013. While more than two third of IKEA's marketing budget was previously spent on furnishing living quarters for its catalogues, from 2013 onwards the company started to create images in its catalogue with the help of graphic artists. In other words, starting from 2013 images in IKEA catalogues are not photos but "a collection of pixels and polygons arranged on a computer"[2] and this shift has proved to be highly effective in terms of cost saving and increasing the quality of catalogues.
Social media advertising in general and viral marketing in particular is also used by IKEA with immense impactions on the level of brand awareness. Particularly, video clips titled 'Experience the power of bookbook" which is a parody on Apple's product announcements and "Improve your private life" parodying self-help programs proved to be immensely popular in social media platforms.
Sales Promotion
IKEA uses the following types of sales promotion techniques:
Customer loyalty program. Established in 1984, IKEA FAMILY has 100 million members. Over 10 million new members join every year and that's around 30,000 new members every day. IKEA family membership provides a range of benefits such as monthly product discounts, 90-days price protection guarantee, discounts on selected items on IKEA restaurants etc.
Seasonal price reductions. The home improvement and furnishing chain regularly announces special sales promotions on notable dates and events such as Black Friday, Cyber Monday and Back to School seasonal promotions.
Point of sale materials. IKEA is experienced in presenting the product in its best way or show the customer that the product is there via attractive posters, display stands etc.
Free gifts. The global furniture retailer offers free gifts occasionally to customers who have IKEA Family card. Free gifts can range between a free hot dog to £500 cash and a family holiday to Sweden.[3]
IKEA Group Report contains a full analysis of IKEA marketing communications mix and IKEA marketing strategy in general. The report illustrates the application of the major analytical strategic frameworks in business studies such as SWOT, PESTEL, Porter's Five Forces, Value Chain analysis and McKinsey 7S Model on IKEA. Moreover, the report contains analyses of IKEA leadership, organizational structure and organizational culture. The report also comprises discussions of IKEA business strategy and addresses issues of corporate social responsibility.

[1] The Economic Times (2014) Available at: http://articles.economictimes.indiatimes.com/2014-03-03/news/47859301_1_largest-home-furnishing-retailer-catalogue-own-friends-day
[2]The Wall Street Journal (2012) Available at: http://www.wsj.com/news/articles/SB10000872396390444508504577595414031195148?mg=reno64-wsj&url=http%3A%2F%2Fonline.wsj.com%2Farticle%2FSB10000872396390444508504577595414031195148.html
[3] Munbodh, E. (2016) "IKEA is giving away a free gift with every purchase – how to claim yours" Mirror, Available at: http://www.mirror.co.uk/money/ikea-free-gift-claim-yours-8552323