SWOT is an acronym for strengths, weaknesses, opportunities and threats related to organizations. The following table illustrates McDonalds SWOT analysis:
Strengths

1.      Market leadership in the US

2.      Brand value and brand awareness

3.      Sustainable business model

4.      High level of profitability

5.      Global presence

Weaknesses

1.      Unhealthy food on the menu

2.      Declining brand image

3.      High employee turnover

4.      Negative publicity

5.      Low differentiation

Opportunities

1.      Enhancing focus on nutritional menu

2.      Home delivery of meals

3.      Product differentiation

4.      Improving CSR aspect of the business

5.      Increasing the extent of localization in international markets

Threats

1.      Food safety concerns

2.      Fast food market saturation in developed countries

3.      Lawsuits against the company

4.      Currency fluctuations

5.      Competition from quality burger chains
McDonalds SWOT analysis
Strengths
McDonald's has a market share of about 37.68% in the US and its closest competitor, Starbucks Corporation has a market of only 26.48%[1]. McDonald's generates about 32% of its revenues from the US market. Leadership in the US market can be specified as an immense business strengths taking into account high popularity of the fast food in this particular geographic market segment.
McDonald's is the world's 6th the most valuable brand with an estimated brand value of USD 92.5 billion.[2] Brand value and brand awareness are proved sources of competitive advantage. Specifically, brand value is an indicator of a high level of consumer loyalty and it offers a wide range of advantages that include negotiating power with customers and suppliers, as well as, global expansion opportunities.
The company maintains a business model that can be sustainable for long-term perspective. About 80% of McDonald's restaurants are owned and operated by independent franchisees[3]. McDonald's Corporation only has to ensure that high standards are adhered to in the preparation and service of foods, along with formulating and applying effective marketing strategy. Moreover, about 20% of McDonald's restaurants in various countries are owned and operated by McDonald's Corporation, thus enabling the company to keep in touch with changes in the consumer behaviour. This pattern of the business model has proved to be highly successful and there are grounds to believe that the model can prove to be sustainable for the long-term perspective.
Despite a set of issues the company has to deal with as discussed in McDonald's Corporation Report in more details, the company enjoys a high level of profitability. McDonald's earnings per share (ERP) equaled to USD 0.84, USD 1.26 and USD 1.40 for the 1st, 2nd and 3rd quarters of 2015 respectively. Moreover, McDonald's net average profit margin for the last five years equals to 19.59% compared, which is almost two times more than fast food industry's net profit margin of 10.96%.[4] High level of profitability is associated with business strengths in terms of withstanding the periods of economic slowdown and making investments in research and development initiatives.
With 36,258 restaurants in 119 countries,[5] McDonald's has a solid presence in the global marketplace. A stark representation in the global marketplace is a considerable strength of the business and it is one of the significant bases of McDonald's competitive advantage. Unlike businesses in e-commerce and other industries, establishing operations in an international scale is a time-consuming and complex task in catering industry. It will take considerable amount of time and effort for any competing fast food chain to reach this scale, and this fact is a major point of strengths for McDonald's.
Weaknesses
An abundance of unhealthy food on the menu is the main weakness of the company. As it is illustrated in Figure 1 below, although McDonald's offers a vast range of burgers, the majority of the items in its menu is considered as unhealthy. Increasing media coverage of negative heath implications associated with fast food consumption and as a result, increasing consumer awareness about negative effects of fast food on their health is enhancing the potential negative impact of this particular weakness on long-term growth prospects of McDonald's.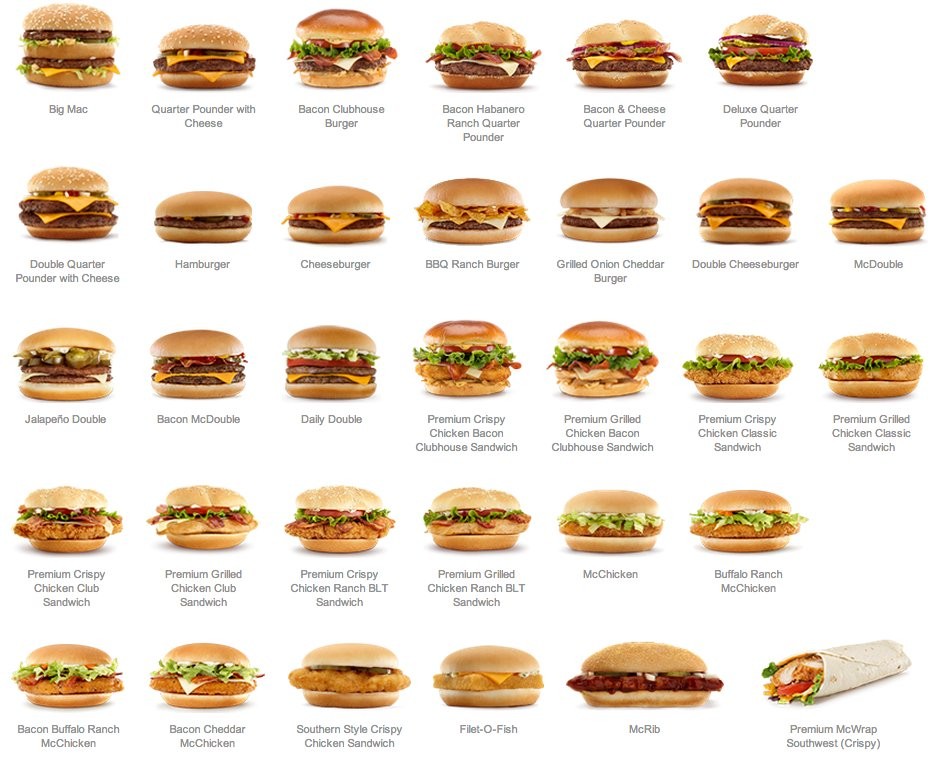 Figure 1 McDonald's menu[6]
2. High employee turnover is one of the major weaknesses of McDonald's and it is not difficult to see why. A survey conducted by Glassdoor, a popular website for jobs addressed employee satisfaction issues top 10 fast-food chains in the UK, related to culture and values, work-life balance, competency of senior management, compensations and benefits and career opportunities. As it is illustrated in Figure 2 below, survey results indicated that McDonald's scored the lowest among its direct competitors in terms of overall employee satisfaction…..
Figure 2 Major fast food chains employee satisfaction in the UK[7]
McDonald's Corporation Report contains the full discussion of McDonalds SWOT analysis. The report also illustrates the application of the major analytical strategic frameworks in business studies such as PESTEL, Porter's Five Forces, Value Chain analysis and McKinsey 7S Model on McDonald's Corporation. Moreover, the report contains analysis of McDonald's marketing strategy, its leadership and organizational structure and discusses the issues of corporate social responsibility.

[1] MCD's Competition by Segment and its Market Share (2016) CSI Market, Available at: http://csimarket.com/stocks/competitionSEG2.php?code=MCD
[2] The World's Most Valuable Brands (2015) Forbes, Available at: http://www.forbes.com/companies/mcdonalds/
[3] Annual Report (2014) McDonald's Corporation
[4] McDonald's Profitability Comparisons (2016) CSI Market
[5] Annual Report (2014) McDonald's Corporation
[6] Full Menu Explorer (2016) McDonald's, Available at: http://www.mcdonalds.com/us/en/food/full_menu/full_menu_explorer.html
[7] Burn-Callander, R. (2015) "Employees send McDonald's to bottom of top 10 ranking of fast food chains" The Telegraph, Available at: http://www.telegraph.co.uk/finance/jobs/11786866/Its-official-Flipping-burgers-at-McDonalds-is-the-worst-fast-food-job-in-the-UK.html