PESTEL is a strategic analytical tool and the acronym stands for political, economic, social, technological, environmental and legal factors. Microsoft PESTEL analysis examines effects of these factors on the bottom line of the multinational technology company.
Political Factors in Microsoft PESTEL Analysis
Microsoft is impacted by a wide range of political factors at governmental, regional and international levels. Apart from the impact of a regular set of political factors such as political stability in the market, impact of activities of lobby groups and the government attitude towards the organization and the industry,  Microsoft activities during the past years have brought upon the company other set of political issues.
Most notably, Microsoft has attracted the attention of governments and political parties due to antitrust-related issues. A recent probe by China's State Administration for Industry and Commerce into the ways Microsoft distributes its Internet Explorer browser and Windows Media Player and sells its Office and Windows software in China[1] can be mentioned as a relevant example of impact of a political factor.
Similar to major international corporations, Microsoft engages in political lobbying in order to contribute to the formation of political environment favourable to its business. As illustrated in figure below, the amount of annual political lobbying by Microsoft has ranged between USD 6.7 million and USD 10.4 million during the last 10 years.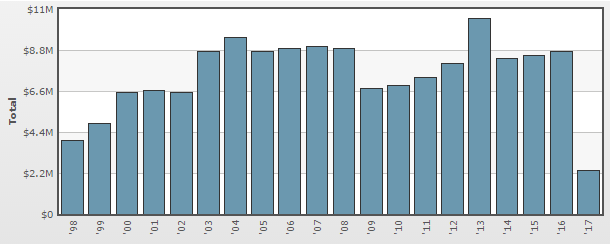 Annual lobbying by Microsoft Corporation[1]
Economic Factors in Microsoft PESTEL Analysis
There is a range of economic factors that affect Microsoft revenues directly or indirectly. These include economic growth or recession in the market, changes in interest rates and currency exchange rates, changes in taxation rates and policies, inflation rates, changes of labour costs and costs of other resources and others.
Particularly, the global economic and financial crisis of 2007 – 2009 had proved to have highly detrimental impact on Microsoft, leading to layoffs of more than 5,000 employees in 2009[2] and this illustrates the potential impact of economic factors on business performance. Changes in exchange rates between USD and other currencies is another significant factor affecting Microsoft profit reports due to the fact that the company generates substantial part of its revenues from international markets. The strengthening of the U.S. dollar relative to certain foreign currencies throughout fiscal year 2015, and continuing into fiscal year 2016, negatively impacted reported revenue and reduced reported expenses from company's international operations.
Microsoft Corporation Report  contains a full version of Microsoft PESTEL analysis. The report illustrates the application of the major analytical strategic frameworks in business studies such as SWOT, Porter's Five Forces, Value Chain analysis and McKinsey 7S Model on Microsoft. Moreover, the report contains analyses of Microsoft business strategy, leadership, organizational structure and organizational culture. The report also comprises discussions of Microsoft marketing strategy and addresses issues of corporate social responsibility.
[1] Goldman, D. (2014) CNN Money, Available at: http://money.cnn.com/2014/07/17/technology/enterprise/microsoft-job-cuts/
[2] Reuters (2014) Available at: http://www.reuters.com/article/2014/08/26/china-antitrust-microsoft-idUSL3N0QW1C520140826
[3] Open Secrets (2017) Available at: https://www.opensecrets.org/lobby/clientsum.php?id=D0000001