Netflix Organizational Structure: an overview
Netflix organizational structure can be classified as relatively flat. This is an unconventional for a multinational giant that employs more than 12500 people in offices in over 25 countries[1]. Fewer management layers increases the span of control for each manager. Corporate structure of Netflix can also be described as unitary or u-form. In companies with unitary structure the business is managed as a single unit and it has functional lines such as sales, marketing, engineering etc.
Flat and unitary aspects of corporate culture of Netflix offers a range of advantages for the the entertainment services provider. Specifically, less hierarchy ensures faster and better communication among employees at all levels, thus increasing the speed and quality of decision making. This is critically important taking into account increasingly dynamic nature of the external marketplace and the need for the company to adapt quickly.
Netflix organizational structure had to change early in 2023 when co-founder Reed Hastings stepped down from the role of CEO. Nevertheless, the flat and unitary nature of the organizational structure has remained. Moreover, even though Reed Hastings is no longer CEO of the on-demand media provider, he remains as the ultimate decision maker on the strategic issues. This arrangement may prove to be practically helpful whenever there is a disagreement between current co-CEOs Ted Sarandos and Greg Peters.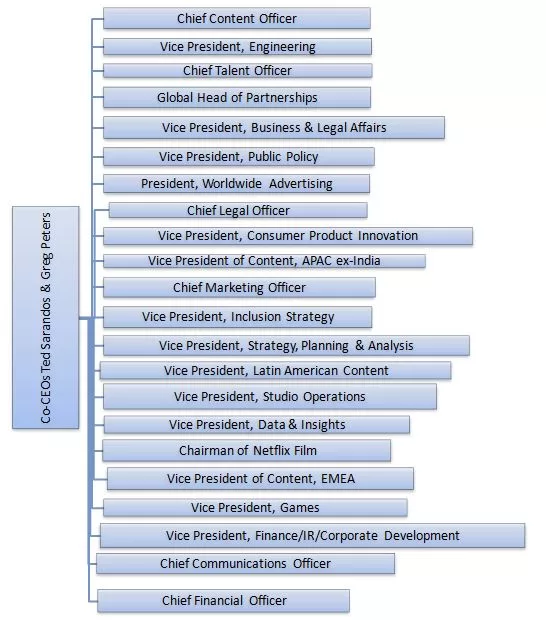 Netflix Organizational Structure
Netflix Inc. Report contains the above analysis of Netflix organizational structure. The report illustrates the application of the major analytical strategic frameworks in business studies such as SWOT, PESTEL, Porter's Five Forces, Value Chain analysis, Ansoff Matrix and McKinsey 7S Model on Netflix. Moreover, the report contains analyses of Netflix leadership, business strategy and organizational culture. The report also comprises discussions of Netflix marketing strategy, ecosystem and addresses issues of corporate social responsibility.

[1] ESG Report (2022) Netflix Inc.
---
---