Oracle Porter's Five Forces Analysis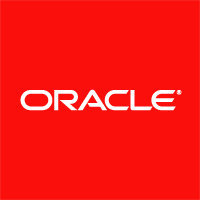 Five forces strategy, introduced by Michael Porter (2004) describes five individual forces that shape the level of competition in any given industry. These forces consist of threat of new entrants, bargaining power of buyers, threat of substitute products or services, bargaining power of suppliers and the level of rivalry among existing firms within the industry.
Threat of New Entrants
Threat of new entrants relates to the level of difficulty associated with entering the industry. Accordingly, if there are substantial barriers to enter the industry the threat of new entrants would be low, and vice versa. The most significant industry entrance barriers are specified by Baker and Hart (2007) as brand loyalty, absolute cost advantage, economies of scale, switching cost and the level of government regulation.
The threat of new entrants to the software industry in UK can be described as high. This is because the amount of financial resources required for entering the industry can raised by many businesses and individual entrepreneurs. Moreover, there is a constant risk for major software companies such as Oracle that any new business with innovative software offerings can claim Oracle's market share within a short period of time.
Bargaining Power of Buyers
The essence of the bargaining power of buyers primarily relates to the level of easiness or difficulty with which buyers can change the companies. (Johnson et al, 2006). However, nowadays the buyers possess a vast amount of bargaining power almost in all industries due to the intensifying level of competition.
The same applies to the UK software industry as well. Specifically, there are several other global players in UK software industry such as IBM, Microsoft and SAP, as well as, many other local companies that compete with Oracle in direct and indirect ways. Many of these companies offer the customers to cover the switching costs and this fact further increases the customer bargaining power.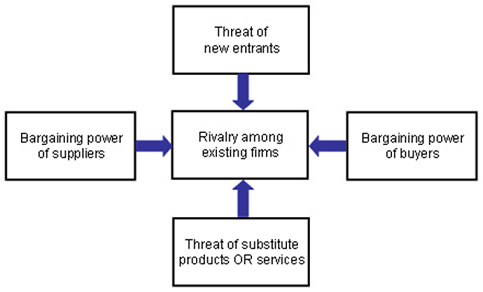 Threat of Substitute Products and Services
The substitute products and services are considered to be another major factor that impacts the overall competitive environment within the industry. Specifically, it is important to note that "substitute products will make it difficult for an organisation to increase the prices of its products above the prices of substitute products or services" (Klopper, 2006, p.215).
For Oracle Corporation the threat of substitute products and services is low because the range of direct and indirect substitution for the types of services offered by the company that include business intelligence, data warehousing, insurance and a wide range of software applications is very limited.
Bargaining Power of Suppliers
According to Coad (2009) the bargaining power of suppliers along many industries is decreasing caused by the dramatic intensification of competition in the marketplace. However, it is important to note that there are a range of multinational companies such as Intel and Shell that possess tremendous amount of bargaining power due to the nature of the product they supply.
For Oracle Corporation in particular, the supplier bargaining power is low, due to the fact that information technology industry in general, and hardware and software segment is particular is highly competitive and a large number of companies and suppliers operate in this industry.
Level of Rivalry among Existing Firms
This specific force is related to the competitive environment in a direct manner. Hill and Jones (2009) specify the following divers of the rivalry among existing firms within any industry: high exit barriers, the level of concentration, industry growth and demand, high strategic stakes, the level of product and service differentiation, and the ratio of fixed costs to variable costs.
There are many rivals for Oracle Corporation in UK market. Global Oracle rivals include IBM, Microsoft and SAP, and there are also many companies of smaller sizes competing with Oracle with varying degree of efficiency.
References
Baker, MJ & Hart, S. (2007) "The Marketing Book" Butterworth-Heinemann
Coad, A. (2009) "The Growth of Firms: A Survey of Theories and Empirical Evidence" Edward Elgar Publishing.
Hill, C & Jones, G, 2009, Strategic Management Theory: An Integrated Approach, Cengage Learning
Klopper, H.B. (2006) " Marketing: fresh perspectives" Pearson Education
Porter M. (2004) "Competitive Strategy: Techniques for Analyzing Industries and Competitors", Free Press, London
Johnson. G, Scholes. K, Whittington. R. (2006) "Exploring corporate strategy", Seventh Edition, Prentice hall, UK
---
---