PepsiCo Leadership and PepsiCo Organizational Structure
PepsiCo leadership of six divisions have nearly 140 years of combined PepsiCo experience across multiple categories, markets and functions[1]. PepsiCo Board of Directors comprises 15 members with Indra K. Nooyi serving as Chairman of the Board and Chief Executive Officer.  The name of Indra Nooyi is on every list of top female leaders around the globe and she is widely acknowledged as a charismatic and effective corporate leader. PepsiCo leadership can be assessed as strong and dynamic and this has been reflected on strong financial performance of the company over the years.
Despite an evident effectiveness of PepsiCo leadership, a lack of clarity on CEO succession plan can be specified as a noteworthy issue. Specifically, a number of reputable members of senior management team and rising starts have been leaving PepsiCo recently. These include the departure of Enderson Guimaraes executive vice president for Global Categories and Operations, the Pepsi President John Compton, former nutrition head Debra Crew and former president Zein Abdalla. It has been noted that "when questioned about the string of high-level departures, PepsiCo has consistently pointed to its status as a well-known supplier of executives to other companies, a talent factory of sorts".[2] Nevertheless, this tendency may cause CEO-succession-related problems in long-term perspectives.
PepsiCo organizational structure can be described as divisional and it integrates the following divisions:
Frito-Lay North America (FLNA).
Quaker Foods North America (QFNA).
Latin America
Asia, Middle East & North America (AMENA).
Europe & Sub-Saharian Africa (ESSA).
North America Beverages (NAB).
Each division is led by a divisional CEO, who report to PepsiCo CEO and Chairman Indra K. Nooyi. Besides divisional CEOs, PepsiCo leadership team comprises the following positions:
Executive Vice President, Communications
President, North America Nutrition
Senior Vice President, Chief HR officer for Human Capital Management Services and Operations
Senior Vice President and Chief Information Officer
President, ESSA Category Teams, Franchise and Po1 Sub-Saharan Africa
Senior Vice President, Talent Management Training and Development
President, Global Foodservice
Senior Vice President and Controller
President, Global Beverage Group
Vice Chairman and Chief Financial Officer
Vice Chairman and Chief Scientific Officer, Global Research and Development
Chairman, Greater China Region
President, Global Snacks Group and Global Insights
President, Latin America Beverages
Executive Vice President, Global Operations
President, Mexico
President and Chief Operating Officer, Frito-Lay North America
Senior Vice President, Chief Global Diversity and Engagement Officer
President and Chief Executive Officer, Greater China Region
President and Chief Operating Officer, North America Beverages
Executive Vice President, Human Resources and Chief Human Resources Officer
Executive Vice President, Government Affairs, General Counsel and Corporate Secretary
Senior Vice President and Chief Supply Officer
Executive Vice President, Global Categories & Franchise Management
PepsiCo Inc. Report constitutes a comprehensive analysis of PepsiCo business strategy. The report illustrates the application of the major analytical strategic frameworks in business studies such as SWOT, PESTEL, Porter's Five Forces, Value Chain analysis and McKinsey 7S Model on PepsiCo. Moreover, the report contains analyses of PepsiCo's marketing strategy and discusses the issues of corporate social responsibility.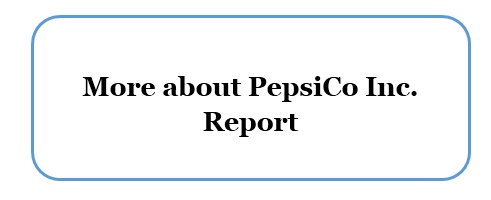 [1] Annual Report (2015) PepsiCo
[2] Reingold, J. (2015) "What PepsiCo's leadership shuffle really means" Fortune, Available at: http://fortune.com/2015/07/10/pepsico-leadership-changes-ceo-succession/
---
---