SWOT analysis is one of the most popular strategic analytical tools that used for strategic decision making. The acronym stands for strengths, weaknesses, opportunities, and threats associated with a particular business. PepsiCo SWOT analysis is presented on table below:
Strengths

1.      Large, yet focused brand portfolio in food, snack and beverage industry.

2.      Strong leadership from CEO Indra Nooyi

3.      High level of customer loyalty for most of the brands within product portfolio

4.      Extensive experiences in mergers and acquisitions

5.       Integrated supply-chain and distribution practices across PepsiCo brands

Weaknesses

1.      Overdependence on domestic market in the USA

2.      High level of dependence on large supermarkets such as Wal-Mart

3.      "Aquafina" tap water scandal and product recall cases

4.      PepsiCo brand perceived as 'unhealthy'

5.       No presence outside of food, snack and beverage industry

Opportunities

1.      Improving health implications of products

2.      Business diversification into other industries

3.      Increasing presence in emerging economies

4.      Increasing the effectiveness of CSR strategy

5.      Focusing on research and development

Threats

1.      Intensification of competition

2.      Rapid decline in the sales of carbonated drinks

3.      New product recalls due to quality scandals

4.               High amounts of sugar or salt in products being criticized by government and non-government health organizations
Strengths
1. PepsiCo portfolio is large and it comprises 22 brands in food, snack and beverage industry.[1] Despite the large number of companies it contains, PepsiCo product portfolio can be described as highly focused because of the uniformity of product positioning across the whole portfolio. According to marketing messages, the consumption of all products within PepsiCo portfolio is associated with being active and dynamic and enjoying life to the full extent. Such a uniformity in product positioning provides significant advantages to PepsiCo in terms of promoting its products in an efficient manner despite the vast range of product categories within food, snack and beverage industry.
2. The majority of brands within PepsiCo portfolio such as Pepsi-Cola, Lay's, Mountain Dew, Gatorade and Tropicana enjoy high levels of customer loyalty with an evident positive implications on the volume of sales. Such a loyalty has been developed during the course of many years thanks to the high quality of products, efficient marketing strategy and a range of other factors. High level of consumer loyalty is a considerable strength that is difficult to be replicated by other competitors in general and new market entrants in particular.
3. Effective leadership of PepsiCo CEO Indra Nooyi has been the topic of many business case studies and the company can further benefit from inspirational and charismatic leadership style of its CEO. Industry experts note that "Nooyi, only the fifth person to run PepsiCo and a dark-horse choice—a woman, a foreigner, a onetime strategy consultant—has outlasted all but one of her predecessors and, at least for now, a powerful shareholder activist"[2]. An organic growth of 5 per cent with a cash flow of more than USD 8.1 billion in 2015 alone[3] as a continuation of PepsiCo's solid financial performance during the last few years is a convincing indicator of Nooyi's effectiveness as the top person.
4. Extensive experience in mergers and acquisitions (M&A) is a considerable strength possessed by PepsiCo. There are abundant real-life case studies in the business literature where many M&As failed due to cross-cultural differences, ineffective change management practices, clash of personality at the top level and many other reasons. In such an environment, PepsiCo has grown to contain 22 brands in its portfolio via successful M&A since its creation as Pepsi-Cola in the late 1890s by Caleb Bradham, a New Bern, N.C. pharmacist[4]. Proven competency in M&A is an important strength that can benefit PepsiCo in the long-term perspective.
5. Integrated supply-chain and distribution practices across PepsiCo brands and extensive experiences in mergers and acquisitions are additional advantages associated with the company. For example, PepsiCo practices advanced outbound logistics operations in three formats – direct-store-delivery, deliveries to customer warehouses and using distributor networks. Moreover, Pepsi Logistics Company, Inc. (PLCI) as a transportation division of PepsiCo reduces the dependency of business operations on external parties.
Weaknesses
1. PepsiCo is highly dependent on domestic market in the USA and 56 per cent of total revenues were generated in the USA. As it is illustrated in Figure 1 below, revenues generated from Mexico, Russia and Brazil accounted to only 6 per cent, 4 per cent and 2 per cent of the total revenue respectively, despite the immense sizes of these markets. These figures can also be interpreted as weak PepsiCo presence in these strategic markets, a situation that needs to be addressed by senior level management in a timely and effective manner.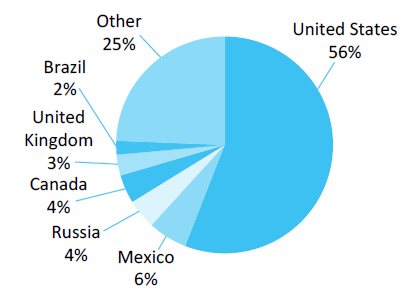 Revenue distribution in international markets[5]
2. Overdependence on large supermarkets in general and Wal-Mart in particular is PepsiCo's considerable weakness. In 2015, sales to Wal-Mart Stores, including Sam's Club, represented approximately 13 per cent of company's net revenue. PepsiCo's five retail customers represent approximately 32 per cent of its 2015 net revenue in North America, with Wal-Mart (including Sam's) representing approximately 18 per cent.[6] Overdependence on supermarket chains can be a weakness, primarily from the viewpoint of the bargaining power…
PepsiCo Inc. Report contains the full discussion of PepsiCo SWOT analysis. The report also illustrates the application of the major analytical strategic frameworks in business studies such as PESTEL, Porter's Five Forces, Value Chain analysis and McKinsey 7S Model on PepsiCo. Moreover, the report contains analysis of PepsiCo's marketing strategy, its leadership and organizational structure and discusses the issues of corporate social responsibility.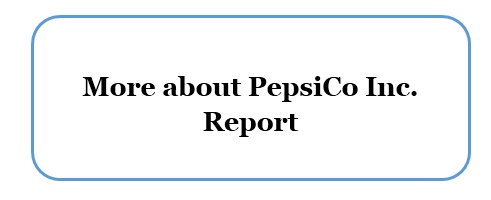 [1] Annual Report (2015) PepsiCo
[2] Reingold, J. (2015) "PepsiCo's CEO was right. Now what?" Fortune, Available at: http://fortune.com/2015/06/05/pepsico-ceo-indra-nooyi/
[3] Annual Report (2015) PepsiCo
[4] Our History (2016) PepsiCo, Available at: http://www.pepsico.com/company/Our-History
[5] Annual Report (2015) PepsiCo
[6] Annual Report (2015) PepsiCo
---
---