PepsiCo Value Chain Analysis
Value chain analysis is an analytical tool used to identify the ways in which businesses create value for customers. The essence of value chain analysis is illustrated in Figure 1 below: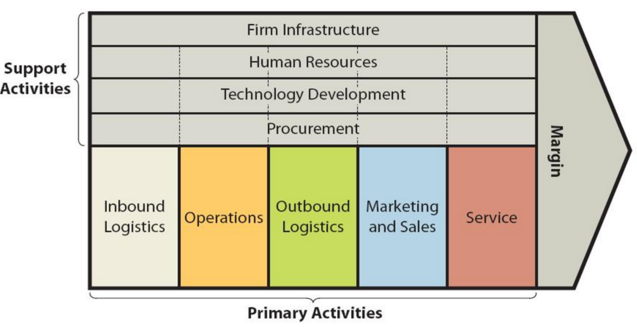 Figure 1. PepsiCo Value chain analysis
Primary Activities
Inbound logistics
PepsiCo portfolio comprises 22 brands including Pepsi-Cola, Tropicana, Gatorade, Mountain Dew and Diet Pepsi and each brand belonging to PepsiCo generated at least one billion USD in retail sales in 2015.[1] Inbound logistics practices of each brand within PepsiCo portfolio reflect the nature and quantity of raw materials used, the proximity between the location of suppliers and manufacturing plant and other set of factors.
The economies of scale can be specified as the main source of value for PepsiCo derived from inbound logistics primary activity. PepsiCo also benefits from locating its production sites within close geographical proximity to the main sources of raw materials in order to save on transportation costs.
Technology is another driver of innovation that provides advantage to PepsiCo's supply chain. One of the innovations that PepsiCo is exploring is 3D printing.  For example, RUFFLES® Deep Ridged used 3-D printing technology to create optimal potato chip prototypes.[2]
Operations
PepsiCo operations are divided into the following the following six operational segments:
Frito-Lay North America (FLNA). This segment engages in manufacturing, marketing, distributing and selling branded snack foods.
Quaker Foods North America (QFNA). This segment is assigned with producing, marketing, distributing and selling cereals, rice, pasta and other branded products.
Latin America segment produces markets, distributes and sells a several snack food brands for Latin American market. These brands include Doritos, Cheetos, Marias Gamesa, Ruffles, Emperador, Saladitas,Sabritas, Lay's, Rosquinhas Mabel and Tostitos.
Asia, Middle East & North America (AMENA). AMENA segment makes, markets, distributes and sells a number of leading snack food brands including Lay's, Kurkure, Chipsy, Doritos, Cheetos and Crunchy through consolidated businesses, as well as through non-controlled affiliates.
Europe & Sub-Saharian Africa (ESSA). This segment engages in manufacturing, marketing, distributing and selling a number of snack food brands either independently or in conjunction with third parties.
North America Beverages (NAB). Operations in NAB segment revolve around producing, marketing, distributing and selling concentrates, fountain syrups and finished goods under various beverage brands including Pepsi, Gatorade, Mountain Dew, Diet Pepsi, Aquafina, Diet Mountain Dew, Tropicana Pure Premium, Sierra Mist and Mug.
As it is illustrated in Figure 2 below, North America Beverages and Frito-Lay North America segments are the biggest sources of PepsiCo revenues and they account for 55 per cent of the total revenues.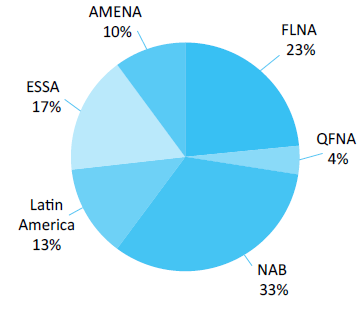 Figure 2. Net revenue distribution along operational segments
PepsiCo conducts its productions operations with use of sophisticated operational systems and advanced technologies. A particular focus on sustainability issues as an integral part of its CSR strategy is an important feature of PepsiCo operations and a solid source of value addition. Moreover, PepsiCo adjusts its products to local tastes and preferences and this is reflected on operations. For example, PepsiCo has tailored its products to suit the Chinese palette and introduced various local flavors to the Lay's brand. The current flavors available in the market are fresh cucumber, baked lobster, peking duck, hot and sour fish soup, fried prawn and little tomato.[3]
Outbound logistics
PepsiCo distribution costs amounted to USD9.4 billion in 2015, USD9.7 billion in 2014 and USD9.4 billion in 2013. PepsiCo creates value in outbound logistics via using multiple product distribution formats. Specifically, PepsiCo outbound logistics integrate the following three formats of product distribution:
Direct-Store-Delivery. This distribution format is especially popular with product categories that are re-stocked very often. Direct-Store-Delivery provides PepsiCo the advantages of merchandizing with maximum visibility and appeal within stores.
Deliveries to customer warehouses. Mainly less fragile and perishable products are distributed in this format and this is the most cost-effective distribution format.
Using distributor networks. Third-party distributors are needed in order to facilitate the distribution to locations far from PepsiCo manufacturing plants and warehouses.
Marketing and sales
PepsiCo has a solid advertising budget of about USD 2.4 billion[4] and PepsiCo marketing strategy makes an extensive use of print and media advertising, social media marketing, celebrity endorsement and product placement. The marketing message attempts to associate the consumption of PepsiCo products with the perceptions of enjoying life to the full extent, staying active and spending quality time together with friends and loved ones.
Service
PepsiCo sells its products to final consumers only via re-sellers and intermediaries such as supermarkets, grocery stores of various formats, restaurants, fast-food chains and other catering business. Therefore, PepsiCo does not provide customer services to the final consumer directly at the point of purchase. Nevertheless, PepsiCo deals with customer service inquires and questions related to its brands and specific products via customer service phone numbers and online contact forms available on its official website.
PepsiCo Inc. Report contains a detailed discussion of PepsiCo Value Chain Analysis. The report also illustrates the application of the major analytical strategic frameworks in business studies such as SWOT, PESTEL, Porter's Five Forces and McKinsey 7S Model on PepsiCo. Moreover, the report contains analysis of PepsiCo marketing strategy, leadership and organizational structure and discusses the issues of corporate social responsibility.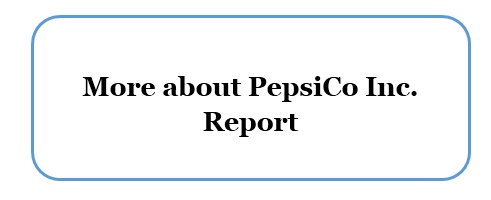 [1] Annual Report (2015) PepsiCo
[2] Stroud, A. (2015) "Why PepsiCo Supply Chain Innovation Matters Organization Wide" APQC, Available at: https://www.apqc.org/blog/why-pepsico-supply-chain-innovation-matters-organization-wide
[3] PepsiCo Food Manufacturing Facility, Wuhan, China (n.d.) Food Processing Technology. Available at: http://www.foodprocessing-technology.com/projects/pepsico-food-manufacturing-facility-wuhan/
[4] Annual Report (2015) PepsiCo
---
---