Samsung Leadership: a chance for a new era
Samsung leadership at the most senior level has been found to be involved in a number of scandals and contradictions during the past years. There is a consensus among business theorists and practitioners that the main reasons of these scandals relate to owner-management model of the global electronics company.
"Since taking over in 1987, Samsung Electronics chairman Lee Kun-hee, part of the second generation of managers from the ruling Lee family, made great contributions to the group's astonishing management performance and the development of Samsung into South Korea's leading global IT business".[1] At the same time, Lee Kun-hee was convicted twice in 1995 and 2008 for slush fund cases, but escaped punishment over the X-files scandal. There were other incidents involving Samsung senior leadership belonging to the ruling family as well.
These have escalated into the emergence of massive leadership crisis in 2017. Specifically,  Jay Y. Lee, the former de facto head of the Samsung conglomerate, was given 5-year jail term  for his role in bribery and embezzlement, part of a series of scandals that led in March to the ouster of Park Geun-hye, South Korea's first female president.[2]
Currently, the company is led by Dr. Oh-Hyun Kwon is Chief Executive Officer and Vice Chairman, Samsung Electronics; Head of Device Solutions.  Samsung Board of Directors consists of four executive directors and five independent directors. The independent directors also meet separately from the Board of Director's executive directors in order to promote a free exchange of ideas on all aspects of the company's management.[3] As it is illustrated in figure below, Samsung has a leadership development program that comprises all five leadership levels throughout the company.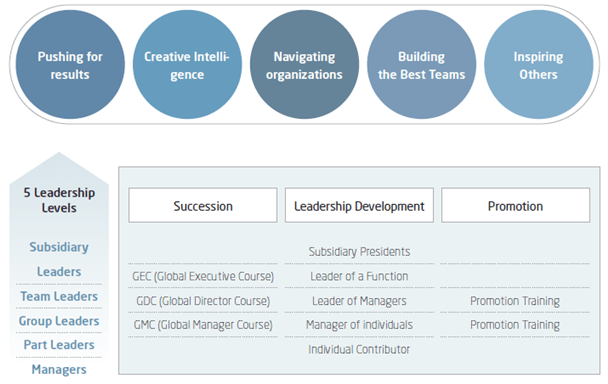 Samsung Leadership Development Program
Samsung Group Report contains a full analysis of Samsung leadership. The report illustrates the application of the major analytical strategic frameworks in business studies such as SWOT, PESTEL, Porter's Five Forces, Value Chain analysis and McKinsey 7S Model on Samsung. Moreover, the report contains analyses of Samsung business strategy, organizational structure and organizational culture. The report also comprises discussions of Samsung marketing strategy and addresses issues of corporate social responsibility.

[1] Jung-soo, K. (2017) "Samsung faces difficult choices over reforming owner-management model" The Hankyoreh, Available at: http://english.hani.co.kr/arti/english_edition/e_business/811350.html
[2] Stone, B., Kim, S. & King, I. (2017) "Summer of Samsung: A Corruption Scandal, a Political Firestorm—and a Record Profit" Bloomberg, Available at: https://www.bloomberg.com/news/features/2017-07-27/summer-of-samsung-a-corruption-scandal-a-political-firestorm-and-a-record-profit
[3] Samsung Sustainability Report (2016) Samsung Electronics
---
---