Samsung Organizational Structure: Divisional according to Product Types
Samsung organizational structure is divisional and the company is divided into three key divisions: IT & Mobile Communications (IM), Consumer Electronics (CE), and Device Solutions (DS). The rationale behind the choice of divisional organizational structure relates to Samsung's large product portfolio and differences between products and services the company offers to the market.
Accordingly, Samsung's each division is managed separately taking into account the characteristics of their products that have implications on new product development, marketing, selling and other aspects of the business. Moreover, Samsung Electronics has more than 200 subsidiaries around the world.
Figure below illustrates Samsung organizational structure: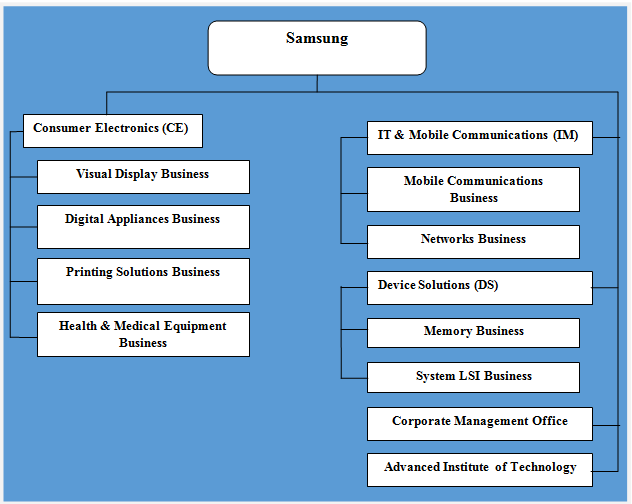 Samsung organizational structure
As it is illustrated in figure above, apart from three divisions, Samsung organizational structure also integrates corporate management office and Samsung Advanced Institute of Technology (SAIT). Corporate management office deals with overall management of the group and also has administrative responsibilities. SAIT is Samsung Group's R&D hub, established as the incubator for the development of new products and services.
The senior management completed its review of optimal organizational structure on April 2017 and decided not to convert to a holding company structure.[1] Following a series of recent scandals involving Samsung management that culminated in Jay Y. Lee, the former de facto head of the Samsung conglomerate being jailed for 5 years[2], it can be argued that Samsung organizational structure will change in the foreseeable future. Specifically, Samsung organizational structure may change to make governance and decision making practices more transparent to eliminate or at least to reduce the cases of future scandals.
Samsung Group Report contains a full analysis of Samsung organizational structure. The report illustrates the application of the major analytical strategic frameworks in business studies such as SWOT, PESTEL, Porter's Five Forces, Value Chain analysis and McKinsey 7S Model on Samsung. Moreover, the report contains analyses of Samsung leadership, business strategy and organizational culture. The report also comprises discussions of Samsung marketing strategy and addresses issues of corporate social responsibility.

[1] Samsung Electronics Completes Review of Optimal Corporate Structure (2017) Samsung Newsroom, Available at: https://news.samsung.com/global/samsung-electronics-completes-review-of-optimal-corporate-structure
[2] Stone, B., Kim, S. & King, I. (2017) "Summer of Samsung: A Corruption Scandal, a Political Firestorm—and a Record Profit" Bloomberg, Available at: https://www.bloomberg.com/news/features/2017-07-27/summer-of-samsung-a-corruption-scandal-a-political-firestorm-and-a-record-profit
---
---