Samsung Value Chain Analysis
Samsung value-chain analysis is an analytical framework that assists in identifying business activities that can create value and competitive advantage for the global electronics company. Figure 1 below illustrates the essence of value chain analysis.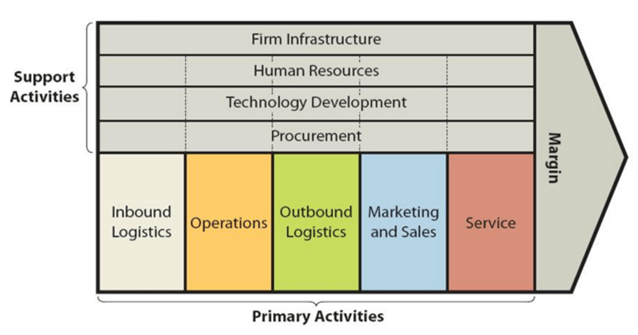 Figure 1 Samsung Value chain analysis
Samsung has 579 suppliers globally and the company's supply chain includes over 2,700 suppliers in various industries across the world.[1] The majority of Samsung suppliers are based in Asia and accordingly, 79.4% of its supply-chain expenses occur in Asia. This is followed by Americas (14.8%), Europe (4.4%) and other places.[2] In order control inbound logistics aspect of the business more effectively, Samsung owns a number of logistics firms as its subsidiaries. The most notably, Samsung Electronics Logitec, established in 1998, is an integrated enterprise logistics management agent that serves logistics needs of the company with 540 employees and 8,600 partner employees around the globe.[3]

Figure 2 Samsung supply chain management principles[4]
Strategic relationships with suppliers is one of the main sources of value creation for the multinational electronics company. For example, the company changed the payment cycle from twice a month to four times a month in 2011 and implemented early payments around Korea's traditional holiday seasons, thereby helping to smooth the funding of operations for suppliers.[5]
Samsung Electronics is a global company that operates 38 production bases in 17 countries around the world.[6] The company manufactures 90% of its products in-house.  Samsung operations are divided into three key divisions:
IT & Mobile Communications (IM)
Consumer Electronics (CE)
Device Solutions (DS)
At the end of 2015, Samsung Electronics maintained 199 worldwide operation hubs, including manufacturing subsidiaries, sales subsidiaries, design centres, research centres, and 15 regional head offices worldwide. Figure 3 below illustrates the full scope of Samsung global network of operations.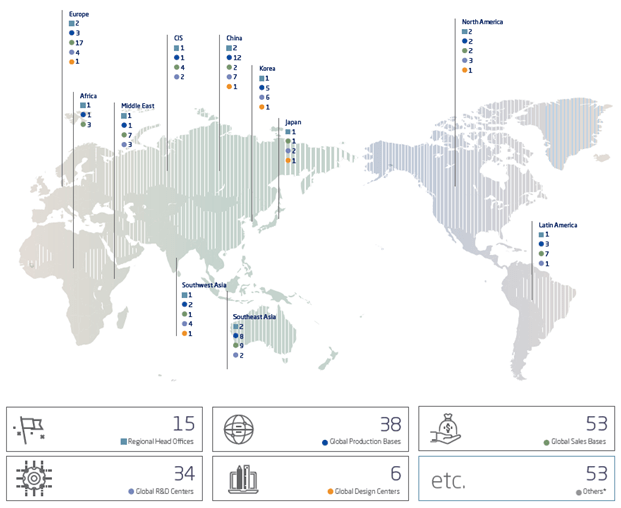 Figure 3 Samsung electronics global network of operations[7]
Major sources of value in Samsung operations include the use of advanced technologies and sophisticated operations systems. Moreover, the global electronics company heavily relies on Six Sigma methodology in its business operations.
Although Apple, formerly led by late Steve Jobs is generally acknowledged as the pioneer in introducing modern smartphones, Samsung has proved to be exceptionally quick in launching its own products to compete with Apple. Effective outbound logistics system plays an important role for Samsung in terms of being able to deliver updates of its popular products to customers in a timely manner.
Samsung Electronics Logitec mentioned above facilitates the major part of outbound logistics operations. Moreover, Samsung Electronics Logitec conducts the comprehensive range of logistics operations including negotiation of payment collections on behalf of Samsung and dealing with insurance claims. It can be argued that effective integration of information and communication technologies into outbound logistics practices is one of the major sources of value creation for Samsung Electronics.
Marketing and sales as primary activities aim to channel the attention of the target customer segment to the perceived competitive advantage of the brand associated with high quality and advanced functions and capabilities of products. Samsung marketing budget in 2016 amounted to USD10.2 billion (11.5 trillion won), including USD3.9 billion (4.4 trillion won) advertisements expenses, a 15% increase from 2015[8]. The marketing budget is spent on print and media advertising, events and experiences and public relations programs and initiatives. The global electronics company has 53 sales bases internationally.
An effective appeal to customer needs and wants in an emotional level is one of the main sources for value creation for Samsung in marketing and sales aspects of the business.  For example, Samsung commercial series 'Do What You Can't' encourages members of the target customer segment to be bold in terms of pursuing their dreams and passions. Importantly, these commercial series position Samsung products and services as effective tools that can be used to pursue passions and achieve dreams.
Samsung strives to deliver the customer services of the highest standards. The company conducts customer satisfaction surveys managed by external parties in a regular manner in order to achieve and sustain high levels of customer satisfaction. There is a universal phone number for Samsung Direct Support and unlike the majority of multinational enterprises; Samsung promises to get back to customers in developed countries within 24 hours.
Samsung Group Report contains a full version of Samsung value chain analysis. The report illustrates the application of the major analytical strategic frameworks in business studies such as SWOT, PESTEL, Porter's Five Forces and McKinsey 7S Model on Samsung. Moreover, the report contains analyses of Samsung leadership, business strategy, organizational structure and organizational culture. The report also comprises discussions of Samsung marketing strategy and addresses issues of corporate social responsibility.

[1] Samsung Sustainability Report (2016) Samsung Electronics
[2] Sustainability Report (2015) Samsung Electronics
[3] About SELC (2015) Available at: https://selc.co.kr/eng/info.jsp
[4] Samsung Sustainability Report (2016) Samsung Electronics
[5] Samsung Sustainability Report (2016) Samsung Electronics
[6] Samsung Sustainability Report (2016) Samsung Electronics
[7] Samsung Sustainability Report (2016) Samsung Electronics
[8] Samsung's, LG's marketing costs rise in 2016 amid heightened competition (2017) Yonhap News Agency, Available at: http://english.yonhapnews.co.kr/news/2017/04/05/0200000000AEN20170405001800320.html?input=rss
---
---