Starbucks CSR Programs and Initiatives
Starbucks Supporting Local Communities
Starbucks employees and customers have contributed more than 3 million hours of community service over the past seven years[1]
Within the scope of Global Month of Service 1,163 employee-led projects in April 2015 alone
Starbucks Community Store program aims to assist local non-profit organizations in their efforts to provide education and training to achieve poverty eradication for the young segment of population. The company has risen more than USD 900,000 since its launch in 2011.
Starbucks has cooperated with non-profit organizations, community leaders and organizational stakeholders to provide more than 520,000 hours of volunteering service around the globe.[2]
Starbucks Educating and Empowering Workers
Almost half of Starbucks employees are younger than 24 years old
Starbucks College Achievement Plan is an education program that allows employees to obtain online degrees from Arizona State University.
The company aims to hire 10,000 veterans and military spouses by 2018 and 2000 new employees from this segment of population was hired in 2014.
It has been noted that "at the height of the global financial crisis, when other companies were cutting HR costs wherever they could, Starbucks invested in staff training, including coffee tastings and courses that ultimately qualified for credit at higher education institutions"[3]
Starbucks and Gender Equality and Minorities
At present about 40% of Starbucks US employees are minorities and 65% are women.
Among vice presidents, 48% are women and 15% are minorities.
Within the top leadership team, comprising senior vice presidents and higher executives 18% are minorities and 29% are women.
Energy Consumption by Starbucks
Starbucks has more than 800 LEED® certified store, including the LEED® Platinum Starbucks® Reserve Roastery and Tasting Room in Seattle.
The company increased its purchases of renewable energy from 20% in 2008 to 100% for global company operates stores in 2015
Despite significant increase in the size and mix of the business since the base year 2008, the company achieved a net energy reduction of 25% from 6,8 kwH to 5,10 kwH per square foot a month in company-operated stores in the US and Canada
Starbucks opened its 500th LEED-certified store in 2014, more than any other retailer in the world. LEED has been implemented in 19 counties and 98% of new company-operated stores in Americas are built according to LEED standards.
New Energy Management System is installed in about 4000 stores to optimize heating and cooling. In 2014, energy performance improved only 4.6% compared to the baseline levels.
Water Consumption by Starbucks 
In 2015 Starbucks exceeded its water conservation goal, reducing consumption more than 26% over 2008 – from 24 gallons of water per square foot of retail space to fewer than 18 gallons
As it is illustrated in figure below, the company has been gradually decreasing its water consumption in company-operated stores and in 2015 it achieved 26.5% reduction in water consumption compared to base year 2008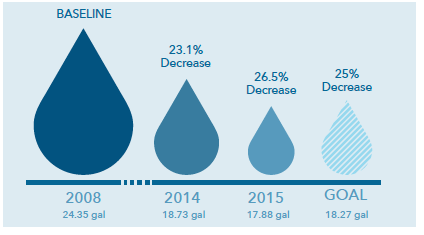 Average water use per square foot/store/month U.S. and Canada company-operated stores[4]
In 2014, Starbucks achieved water savings of more than 23% compared to baseline levels set in 2008. LEED certified stores made immense contribution to water saving initiatives
Waste Reduction and Recycling by Starbucks
During the past five years Starbucks Japan has turned tons of spent coffee grounds into compost and feed for cows
Front-of-store recycling has been implemented in 59% of company-operated stores in the USA and Canada
In 2014, customer-facing recycling was added to more than 760 stores. In total customer-faced recycling is integrated in 3849 or 47% of all company-operated stores in the US and Canada
Starbucks encourages and rewards customers to bring their own tumblers and mugs to stores. In 2014, customers did that 47.6 million times, up from 46.9 million in 2013.
Starbucks and Sustainable Sourcing 
In 2015, 99% of coffee sourced by Starbucks was certified as ethically sourced by A.F.E. Practices, Fairtrade, or another externally audited system[5]
The company has 8 Farmer Support Centres in Latin America, Asia and Africa
Starbucks purchase of coffee from the Eastern Democratic Republic of Congo helped more than 4,500 small-holder farmers to more than triple their incomes.
6% of coffees purchased are Fairtrade and 1% is organic.
Starbucks investment in farmer loans with Root Capital has grown from USD150,000 in 2000 to USD12 million today, including a USD3 million investment in 2014.
Starbucks Corporation Report contains a full analysis of Starbucks corporate social responsibility including Starbucks CSR issues. The report illustrates the application of the major analytical strategic frameworks in business studies such as SWOT, PESTEL, Porter's Five Forces, Value Chain analysis and McKinsey 7S Model on Starbucks. Moreover, the report contains analyses of Starbucks leadership, business strategy, organizational structure and organizational culture. The report also comprises discussions of Starbucks marketing strategy and addresses issues of corporate social responsibility.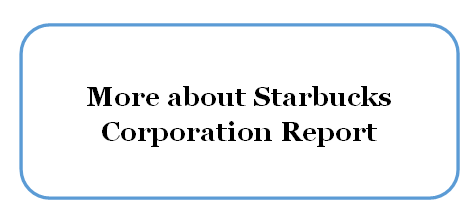 [1] Global Responsibility Report (2015) Starbucks Coffee
[2] Starbucks Global Responsibility Report (2014)
[3] Leinward P. & Davidson, V. (2016) "How Starbucks's Culture Brings Its Strategy to Life" Harvard Business Review, Available at: https://hbr.org/2016/12/how-starbuckss-culture-brings-its-strategy-to-life
[4] Source: Global Responsibility Report (2015) Starbucks Coffee
[5] Global Responsibility Report (2015) Starbucks Coffee