Starbucks CSR: Corporate Social Responsibility
Starbucks CSR programs and initiatives are led by Michael Kobori, chief sustainability officer for the world's largest coffeehouse chain. CSR initiatives for Starbucks cover wide range of business aspects and employee relationships such as supporting local communities, educating and empowering workers, gender equality and minorities, energy and water consumption, waste reduction etc.
CSR Programs and Initiatives
Starbucks Supporting Local Communities
Starbucks Community Store program aims to assist local non-profit organizations in their efforts to provide education and training to achieve poverty eradication for the young segment of population. The company plans to open 100 Community Stores by the end of 2025.
Starbucks has cooperated with non-profit organizations, community leaders and organizational stakeholders to provide more than 520,000 hours of volunteering service around the globe.[1]
The global coffeehouse chain runs FoodShare food donation program in all company operated stores in US and Canada. 10.4 million and 1.2 million meals were donated in US and Canada respectively in FY21.
Starbucks Educating and Empowering Workers
Starbucks College Achievement Plan is an education program that allows employees to obtain online degrees from Arizona State University. Approximately 2500 employees earned their degrees via this program in FY21 alone
It has been noted that "at the height of the global financial crisis, when other companies were cutting HR costs wherever they could, Starbucks invested in staff training, including coffee tastings and courses that ultimately qualified for credit at higher education institutions"[2]
In FY21 the company oversaw more than 136000 course enrolments in Starbucks Coffee Academy and more than 55,000 course completions since launch.
Starbucks and Gender Equality and Minorities
At present about 40% of Starbucks US employees are minorities and 65% are women.
Among vice presidents, 48% are women and 15% are minorities.
The global coffeehouse chain aims to achieve at least 30% BIPOC representation and 50% representation of women for all enterprise roles by 2025.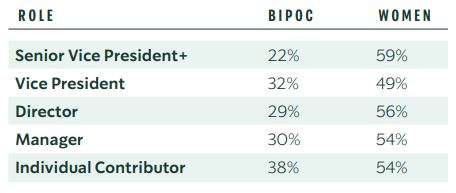 Diversity in Starbucks Corporate Roles[3]
Starbucks previously achieved and currently maintains 100 percent pay equity in the U.S. for women and men and people of all races for partners performing similar work
There are 12 partner networks within the company such as Armed Forces Network, Black Partner Network, Disability Advocacy Network and others
The global coffeehouse chain has achieved and maintained 100% pay equity for women and men and people of all races performing similar work in the U.S. and achieved and maintained gender equity in pay in global company operated markets Canada and Great Britain.
The multinational chain of coffeehouses received 100% score on the Disability Equality Index.
Energy Consumption by Starbucks
Greener Store format in North America consumes 30% less energy compared to traditional stores
66% of company-operated stores are powered using renewable energy
The world's largest coffeehouse chain is committed to reach to 100% renewable energy in its global operations
Water Consumption by Starbucks
The company plans to ensure that 50% of water it uses is conserved or replenished by 2030
In FY21 water withdrawals in operations reduced by 11% compared to the base year of FY19
Greener Store format in North America use 30% less water compared to traditional store formats
Waste Reduction and Recycling by Starbucks
During the past five years Starbucks Japan has turned tons of spent coffee grounds into compost and feed for cows
The global coffeehouse chain aims to reduce the waste it sends to landfill by 50% by 2030.
Carbon Emissions by Starbucks
The world's largest coffeehouse chain aims to achieve 50% absolute carbon reduction in scope 1, 2 and 3 greenhouse (GHG) emissions in all direct operations and value chain by 2030
The company plans to become carbon positive i.e. store more carbon than it emits by year of 2030.
Starbucks and Sustainable Sourcing 
The company has 10 Farmer Support Centres in Latin America, Asia and Africa
Starbucks purchase of coffee from the Eastern Democratic Republic of Congo helped more than 4,500 small-holder farmers to more than triple their incomes.
In FY21 99.9% of tea sourced by Global Coffee, Tea & Cocoa, the company's global coffee sourcing team, verified as responsibly sourced
Starbucks doubled the Global Farmer Fund to USD 100 million. Since FY18, USD 54.8 million in loans has been deployed.
Starbucks Corporation Report contains a full analysis of Starbucks corporate social responsibility including Starbucks CSR issues. The report illustrates the application of the major analytical strategic frameworks in business studies such as SWOT, PESTEL, Porter's Five Forces, Value Chain analysis, Ansoff Matrix and McKinsey 7S Model on Starbucks. Moreover, the report contains analyses of Starbucks leadership, business strategy, organizational structure and organizational culture. The report also comprises discussions of Starbucks marketing strategy and its ecosystem.

[1] Starbucks Global Responsibility Report (2014)
[2] Leinward P. & Davidson, V. (2016) "How Starbucks's Culture Brings Its Strategy to Life" Harvard Business Review, Available at: https://hbr.org/2016/12/how-starbuckss-culture-brings-its-strategy-to-life
[3] Global Environmental & Social Impact Report 2021, Starbucks Corporation
---
---