Starbucks Strategic Capabilities
Threshold resources for Starbucks operations in the UK consist of venues, basic coffee machine, tables, cups, human resources etc. However, threshold resources would not suffice in terms of enabling Starbucks to survive the competition, and therefore, Starbucks utilises a set of distinctive resources in UK market that include effective design of shops, a wide range of fresh coffee and other products, customer loyalty card, as well as, sophisticated Verismo technology.
Likewise, threshold competencies for Starbucks may consist of selling coffee drinks and food prepared through basic processes to customers in the most basic manner. Nevertheless, Starbucks strives to achieve a competitive advantage in the market through a set of core competencies that include exceptional customer services achieved through a high level of employee motivation, focus on product quality, and strong leadership from CEO and President Howard Schultz.
Starbucks also possesses the following competencies and capabilities:
Generating a record total revenues of USD 13.3 billion to further contribute to its strong financial position
Entering the market of super-premium juices through acquiring Evolution Fresh
Increasing the range of its products through the introduction of Starbucks Blond Roast
Initiating a set of corporate social responsibility programs and partnerships such as strategic partnership with DonorsChoose.org, initiating Youth Action Grants, etc.
Launching personalised Frappuccino drinks
Starbucks Corporation Report uploaded on April 2017 contains the application of the major analytical strategic frameworks in business studies such as SWOT, PESTEL, Porter's Five Forces, Value Chain analysis and McKinsey 7S Model on Starbucks. Moreover, the report contains analyses of Starbucks's business strategy, leadership and organizational structure and its marketing strategy. The report also discusses the issues of corporate social responsibility.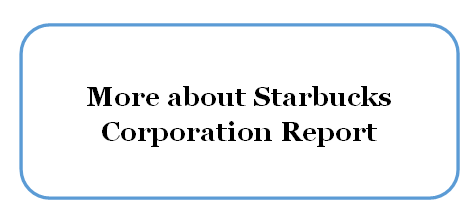 ---
---