SWOT is an acronym for strengths, weaknesses, opportunities and threats related to organizations. The following table illustrates Starbucks SWOT analysis:
Strengths
1.      Extensive, but focused brand portfolio
2.      High profit margin and solid financial position
3.      Market leadership in the global scale
4.      Customer services and brand positioning
5.      Increasing presence in emerging economies
Weaknesses
1.      Overly dependence on the US market
2.      Overly expensive prices
3.      Brand image weakened due to a number of incidents
4.      Extensive dependence of revenues on Arabica coffee beans price
5.      Imitable products and competitive advantage
Opportunities
1.      Diversification of business
2.      Increased focus on organizational ethical behaviour
3.      Entering into strategic cooperation
4.      Reforming  the pricing structure
5.      Increasing focus on mobile ordering
Threats
1.      Leadership failure by new CEO Kevin Johnson
2.      Dramatic increase of coffee beans costs
3.      Decline in consumption of coffee due to health concerns
4.      Emergence of direct and indirect competition
5.      Disruption in supply-chain
Starbucks SWOT analysis
Strengths
1. Starbucks Corporation owns an extensive brand portfolio. At the same time, all brands belonging to Starbucks portfolio including Teavana, Tazo, Seattle's Best Coffee, Evolution Fresh, La Boulange and Ethos are popular non-alcoholic drinks and beverages of premium class. The company also sells merchandise products such as coffee- and tea-brewing equipment, Verismo® System by Starbucks, mugs and accessories, packaged goods, books and gifts. Starbucks is able to apply its competitive advantage and extensive experience in the promotion and sales towards each product within its portfolio thanks to the shared features of these products associated with high quality for a premium price.
2. In fiscal year 2016 Starbucks net revenues increased 11% to USD21.3 billion in fiscal 2016 compared to USD19.2 billion in fiscal 2015. Moreover, global comparable store sales grew 5% driven by a 4% increase in average ticket and a 1% increase in the number of transactions.[1] Moreover, as it is illustrated in Figure 2 below, the total return to shareholders by the business has been exceeding NASDAQ composite, S&P 500 and S&P Consumer Directory during the past five years, as an indication of solid financial health of the company. The company's current solid financial position can play an instrumental role in terms of engaging in R&D and withstanding the periods of economic difficulties such as the global economic and financial crisis of 2007 – 2009.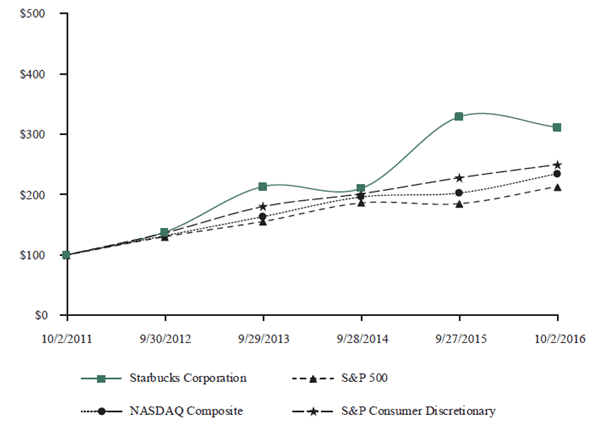 Starbucks Corporation returns to shareholders
3. Starbucks Coffee operates 12,711 company-operated stores and 12,374 licensed stores employing approximately 254,000 people in 75 countries[2]. The company is one of the leaders in the global coffee chain market. Market leadership is usually associated with a high level of customer loyalty and benefiting from the economies of scale and these may contribute to long-term growth prospects of the business.
4. Starbucks has been successful in positioning its coffee chains as a 'third place', away from work and home, where people can spend quality time with a company or alone, enjoying 'Starbucks Experience'. Unlike restaurants, customers do not have to order food in Starbucks shops, thus spending time at Starbucks does to have to be expensive. Relaxed and creatively decorated environment and exceptional customer services increases the value and attractiveness of Starbucks Experience.
5. The company is effectively increasing its presence in China and other emerging economies in Asia. The share of company's revenues from China/Asia Pacific (CAP) global market segment increased to 14% in 2016 from 7% in the previous year.[3] Increasing level of customer purchasing power and greater level of interest in the lifestyle of people in developing countries are important tendencies observed in emerging economies. From this point of view, increasing Starbucks market share in emerging economies, ahead of competition, is a major strength with highly positive implications on the long-term growth prospects of the company.
Weaknesses
1. Despite the presence of the business in 75 countries, revenues generated from Americas operating segment that comprises US, Canada and Latin America accounted for approximately 69% of total revenues for the fiscal year 2016.[4] Such an extensive dependence of the business on home market is a point of vulnerability in a way that recessions and economic difficulties in the US is going to have negative effects on the overall performance of the business to a significant extent.
2. There is a consensus among customers and industry analysts that Starbucks coffees and other beverages and foods are more expensive compared to the products the majority of other coffee house chains in most parts of the U.S."[5] A cup of Starbucks coffee costs about USD 5.03 in the US[6] and about GBP 2.80 in London. High Starbucks prices is understandably the result of pursuing product differentiation business strategy and capitalization on high level of customer loyalty. Nevertheless, such a strategy may alienate certain segment within current customer base, especially in times of economic difficulties…
Starbucks Corporation Report contains a full version of Starbucks SWOT Analysis. The report illustrates the application of the major analytical strategic frameworks in business studies such as PESTEL, Porter's Five Forces, Value Chain analysis and McKinsey 7S Model on Starbucks. Moreover, the report contains analyses of Starbucks leadership, organizational structure, business strategy and organizational culture. The report also comprises discussions of Starbucks marketing strategy and addresses issues of corporate social responsibility.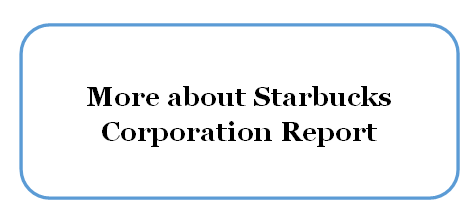 [1] Fiscal 2016 Annual Report (2017) Starbucks Corporation
[2] Fiscal 2016 Annual Report (2017) Starbucks Corporation
[3] Fiscal 2016 Annual Report (2017) Starbucks Corporation
[4] Fiscal 2016 Annual Report (2017) Starbucks Corporation
[5] Taylor, K (2015) Entrepreneur, Available at: http://www.entrepreneur.com/article/248100
[6] Filloon, W. (2016) "One-Third of Starbucks' Drinks Just Got More Expensive" Eater, Available at: http://www.eater.com/2016/7/12/12158966/starbucks-price-increase-2016-coffee