Toyota Corporate Social Responsibility
CSR programs and initiatives are launched as a part of Toyota Global Vision that was formulated in March 2011. Toyota Global Vision is represented in the form of a tree where Toyota values represent the roots of the tree, stable base of the business is the trunk of the tree. The concepts of 'Always Better Cars' and 'Enriching Lives of Communities' are positioned as fruits of the tree. In other words, Toyota Global Vision places an equal emphasis on the primary objective of profit maximization (Always Better Cars) and CSR (Enriching Lives of Communities).
Overview of Toyota's CSR activities[1]
The company releases Global Responsibility Report annually and it includes the details of Toyota CSR programs and initiatives engaged by the company. Table 3 below illustrates highlights from the latest report for 2014:
Categories of CSR activities
Toyota Performance
Labor and human rights
2.14% of all workforce are disabled people

Health and safety

Quality Control (QC) circles have been instituted at Toyota to increase the vitality of people and workplaces. As of March 2015, approximately 4,100 circles involving approximately 36,000 members were active in Japan, and approximately 13,000 circles involving approximately 99,000 members were active abroadToyota conducts genchi genbutsu safety inspections regularly to ensure the safety of employees and visitors to the company.
Environmentb) water consumption

 

c) recycling

 

 

 

 

 

d) CO2 emissions

 

Rainwater collection has been implemented by Toyota to reduce the amount of water usage in its plants

Toyota engages in recycling in the following four directions:

(1) utilization of eco-friendly materials; (2) making use of parts longer; (3) development of recycling technology; (4) making vehicles from the materials of end-of-life vehicles.

The company aims to improve the global average fuel efficiency by 25% by FY2015, compared to FY2005

As of December 31, 2013, use of Toyota hybrids* had resulted in approximately 41 million fewer tons of CO2 emissions

"New Vehicle Zero CO2 Challenge," initiative aims to reduce vehicle CO2 emissions by 90 percent in comparison with 2010 levels, by 2050

Supporting local  communities
Toyota promotes local purchasing globally
Gender equality and minorities
As a result of relevant set of initiatives the number of women in managerial positions has increased from 16 in 2004 to 111 in 2015.Toyota aims to increase the number of women in managerial positions in 2020 by three times the number in 2014
Other initiatives
Toyota has initiated a number of road safety education programs which include issuing nearly 134 million copies of traffic safety picture books to preschool and kindergarten children around Japan, and nearly 1.5 million copies of traffic safety picture-card sets. Moreover, TeenDrive in the US and White Road Campaign in Thailand are among road safety educational initiatives launched by Toyota outside of Japan.CSR workshop and education programs are organized for suppliers in Japan and abroad participation in which is voluntary
 Toyota CSR performance
Figures taken from Toyota Annual Report (2014) and Sustainability Report (2015)
Discussion of Toyota Corporate Social Responsibility and Criticism of Toyota's CSR programs and initiatives is given in Toyota Motor Corporation Report. The report also contains an application of SWOT, PESTEL, Porter's Five Forces and Value Chain Analyses on Toyota.  Moreover, Toyota's marketing strategy is analyzed in this report in a detailed manner.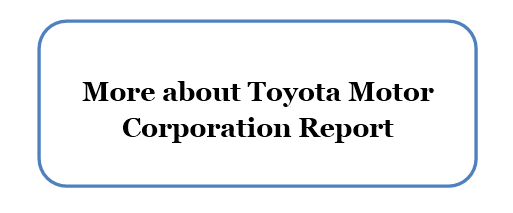 [1] Annual Report (2014) Toyota Motor Corporation
---
---