WeWork business strategy is based on the following two pillars:
1. Digitalizing real estate business. Co-founder and former CEO Adam Neumann attempted to position WeWork as a tech company and this fact is one of the main reasons the company has been able to attract billions of dollars from investors. Tech startups offer potential to generate massive return on investment due to innovative nature of their customer value proposition and scalability of the business with little additional cost. The workspace provider, on the other hand, does not have the same level of scalability, because in order to create each new workspace the company has to lease new office space from property owners. Realisation of this fact by stakeholders along with fundamental leadership mistakes by Adam Neumann caused the planned IPO to fail in 2019.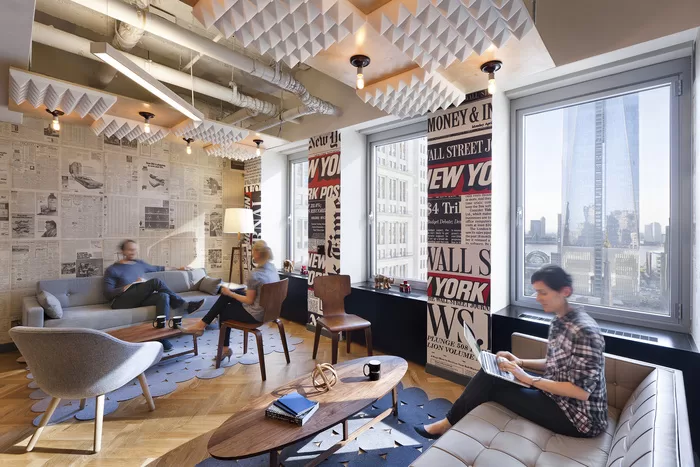 The current CEO Sandeep Mathrani accepts that WeWork is a real estate company, but it also has advanced tech capabilities. The co-working giant has developed WeWork Workplace a software that allows employers manage their workers by booking conference rooms, coordinating desk usage and tracking which work spaces are used most often. Judging by the direction the global flexible workspace provider is moving we can say that WeWork pursues a business strategy of digitalizing the real estate business.
2. Offering space as a service. For centuries workspace was a product, where companies needed to purchase or lease an office. The concept space as a service developed about two decades ago changed the status quo. Space as a service offers users flexibility in terms of sizes of workspace and duration of service. Space as a service refers to living spaces as well, an area dominated by AirBnb. WeWork is a pioneer in space as a service for workspace and focusing on this concept as the core business is the main growth strategy for the company.
WeWork Inc. Report contains the above analysis of WeWork business strategy. The report illustrates the application of the major analytical strategic frameworks in business studies such as SWOT, PESTEL, Porter's Five Forces, Value Chain analysis, Ansoff Matrix and McKinsey 7S Model on WeWork. Moreover, the report contains analyses of WeWork leadership, organizational structure and organizational culture. The report also comprises discussions of WeWork marketing strategy, ecosystem and addresses issues of corporate social responsibility.

---
---