WeWork Ecosystem Overview
Co-founder and former CEO Adam Neumann had a compelling vision for WeWork ecosystem. It has been noted that "Neumann has even expressed a desire to one day have entire WeWork communities, where everything from your apartment to the school your children attend is brought to you by WeWork"[1] The main components of the ecosystem as envisioned by Neumann include the following:
WeGrow private school. The curriculum featuring 'conscious entrepreneurship', the school was actually the brand child of Adam Neumann's wife Rebecah.  WeGrow school closed only a year later after enrolling around 100 children in 2018 for the tuition cost of up to USD 42k.[2]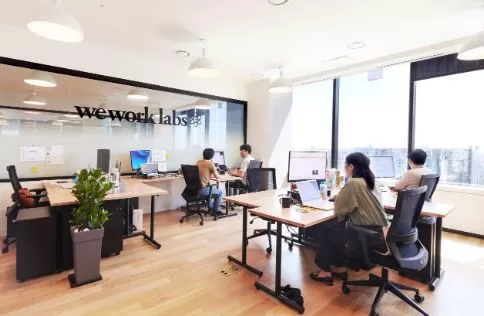 WeMrkt physical store.  Opened in 2010, WeMrkt physical store offered products such as Icelandic yogurt and chickpea snacks sourced from WeWork member companies.
Powered by We.  A range of services that transform data to design. These services include helping clients find the right physical space, construction, custom office decor, software to manage building operations, back-end data on the efficiency of the office space, and even WeWork employees physically on-site to help with community programs.[3]
HQ by WeWork.  Private and personalized headquarters for medium sized businesses.
WeWork Labs. An initiative to assist early-stage start-ups with growth through education, mentorship, and an agile workspace. The program was shut down in 2022.
Rise by We. A premium fitness concept presented as an ultimate wellness club.
WeLive. Furnished, community-oriented shared living apartment suite rentals, offering amenities in select US metropolitan areas.
Almost all of the initiatives listed above that were planned as important components as WeWork ecosystem have failed. However, it is important to note that in most cases the failure may not be an indication of flaw of respective ideas. Rather, the failure of these initiatives can be attributed to the following main two reasons:
1. Poor leadership. It is now evident that Neumann's obvious charisma blinded many to his lack of leadership skills and reckless burning of investors' cash. If these initiatives were to be launched by more mature and professional business leader, they might have been a success.
2. Launching many initiatives at once. The co-working and office space operator stretched itself too thin, launching too many initiatives within too short timeframe. As a result each initiative did not get due attention from senior management and board.
WeWork Inc. Report contains the above analysis of WeWork ecosystem. The report illustrates the application of the major analytical strategic frameworks in business studies such as SWOT, PESTEL, Porter's Five Forces, Value Chain analysis, Ansoff Matrix and McKinsey 7S Model on WeWork. Moreover, the report contains analyses of WeWork leadership, business strategy, organizational structure and organizational culture. The report also comprises discussions of WeWork marketing strategy and addresses issues of corporate social responsibility.

[1] Winfrey, G. (2018) "How WeWork Plans to Be the Ecosystem for Your Entire Life" Inc. Available at: https://www.inc.com/graham-winfrey/wework-2018-company-of-the-year-nominee.html
[2] Pope, N. (2022) "What Happened to WeGrow, Rebekah Neumann's School in 'WeCrashed', Esquire, Available at: https://www.esquire.com/uk/culture/tv/a39638207/what-happened-to-wegrow-rebekah-neumanns-school-in-wecrashed/
[3] Crook, J. (2017) "WeWork's Powered By We product is central to 2018 growth strategy" TechCrunch, Available at: https://techcrunch.com/2017/12/20/weworks-powered-by-we-product-is-central-to-2018-growth-strategy/
---
---