WeWork Marketing Strategy
WeWork marketing strategy is based on the following principles:
1. Effective use of social media marketing. The global flexible workspace provider efficiently uses social media marketing through viral marketing, localized Facebook ads appealing to the needs and wants of the local customer segment. Furthermore, there are many YouTube videos with positive customer testimonials for using WeWork co-working spaces with positive implications on the brand image.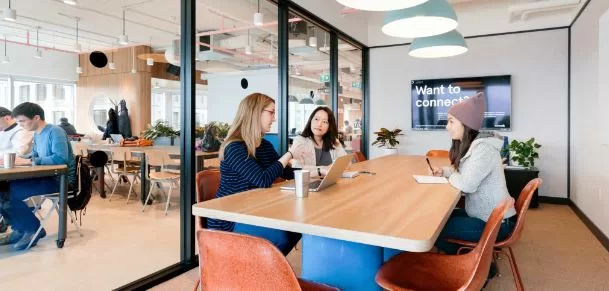 2. Celebrity endorsement. Although the leadership style of the co-founder and former CEO Adam Neumann had proved to be devastating for the company, he was able to engage in celebrity endorsement in cost-effective manner. Celebrities such as Drake, Ashton Kutcher and Hugh Jackman were spotted in WeWork headquarters with positive implications to the brand image. The co-working giant continued with celebrity endorsement even after the departure of Neumann.
3. Focus on the product and place. Within the framework of 7Ps of marketing WeWork focuses on product and place elements of the marketing mix to a greater extend compared to other elements. The global flexible workspace provider offers workspace as a service – creatively designed, furnished, flexible and without long-term commitments. This is the unique selling proposition for WeWork. The co-working giant has a network of 756 locations worldwide, including 277 locations in the US as of December 2021.
4. Effective market segmentation and positioning. The co-working giant uses functional and multi-segment positioning techniques and targets customers mainly in urban areas in 38 countries worldwide. In terms of occupational segmentation criteria WeWork targets self-employed individuals, professionals, senior managers, executives and business owners.
5. Integrated use of marketing communication mix. The co-working and office space operator uses several marketing communication channels such as print and media advertising, sales promotions, events and experiences and public relations in integrated way to communicate marketing message to the target customer segment.
WeWork Inc. Report contains the above analysis of WeWork marketing strategy. The report illustrates the application of the major analytical strategic frameworks in business studies such as SWOT, PESTEL, Porter's Five Forces, Value Chain analysis, Ansoff Matrix and McKinsey 7S Model on WeWork. Moreover, the report contains analyses of WeWork leadership, organizational structure and organizational culture. The report also comprises discussions of WeWork business strategy, ecosystem and addresses issues of corporate social responsibility.

---
---