Porter's Five Forces analytical framework developed by Michael Porter (1979)[1] represents five individual forces that shape the overall extent of competition in the industry. These forces are represented in figure below:
Porter's Five Forces
Threat of new entrants in international coffee chain industry is low. Approaching market saturation in many markets has a discouraging influence on new entrants and the economies of scales is a substantial entry barrier in this industry. Moreover, new market entrants are going to face significant issues to access distribution channels because potentially attractive locations for coffee stores are already occupied by coffee chains, restaurants and retail outlets.
Although the absence of customer switching costs from Starbucks to other stores may attract new competitors to the industry, survival in the global coffee-chain industry is currently associated with massive capital investments and this fact can be referred to as an additional entry barrier to the industry.
Threat of substitute products or services is insignificant. There is little or no direct substitution to Starbucks core products, since the company sells a comprehensive range of non-alcoholic drinks including, coffee, tea, juices, energy drinks and water. Indirect substitution for Starbucks products and services include parks, leisure and recreation centers.
Rivalry among existing firms is fierce. Starbucks faces competition in the global marketplace from Costa, Caribou Coffee, McDonald's, Dunkin Donuts, Pret-a-Manger and thousands of small local coffee shops and cafes….
Starbucks Corporation Report contains more detailed discussion of Starbucks Porter's Five Forces analysis. Moreover, the report illustrates an application of SWOT, PESTEL and Value-Chain analytical frameworks and discusses Starbucks's marketing strategy and company's approach towards Corporate Social Responsibility (CSR).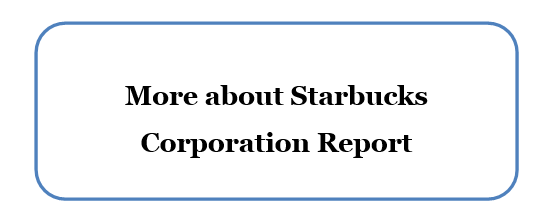 [1] Porter, M. (1979) "How Competitive Forces Shape Strategy" Harvard Business Review