Amazon marketing strategy relies on the following six pillars:
Offering the widest range of products
Using a customer-friendly interface.
Scaling easily from small to large.
Exploiting affiliate products and resources.
Using existing communication systems.
Utilizing universal behaviours and mentalities.
As it is illustrated in figure below, Amazon's annual global marketing expenses have been consistently increasing during the past six years to exceed USD 7.2 billion in 2016. Amazon marketing strategy integrates a number of targeted online marketing channels, such as Associates program, sponsored search, social and online advertising, television advertising, and other initiatives.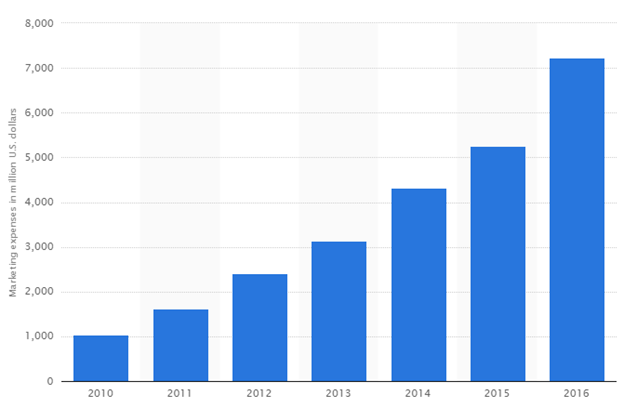 Amazon annual global marketing expenses[1]
Amazon marketing strategy is based on the following principles:
Amazon 7ps of marketing mainly focuses on product and place elements of the marketing mix. Offering more than 480 million products in the USA alone, Amazon product range is the widest among online and offline retailers. Moreover, the company is able to offer its products for competitive prices due to massive cost savings based on online nature of business operations.
Amazon segmentation targeting and positioning practices are associated with targeting the widest customer segment. The retail giant does this with the application of multi-segment and adaptive positioning techniques.
Amazon marketing communication mix integrates print and media advertising, sales promotions, events and experiences, public relations and direct marketing. The company places the particular focus on print and media advertising and sales promotions elements of the marketing communication channels.
Amazon.com Inc. Report contains a full analysis of Amazon marketing strategy. The report illustrates the application of the major analytical strategic frameworks in business studies such as SWOT, PESTEL, Porter's Five Forces, Value Chain analysis and McKinsey 7S Model on Amazon. Moreover, the report contains analyses of Amazon leadership, organizational structure and organizational culture. The report also comprises discussions of Amazon business strategy and addresses issues of corporate social responsibility.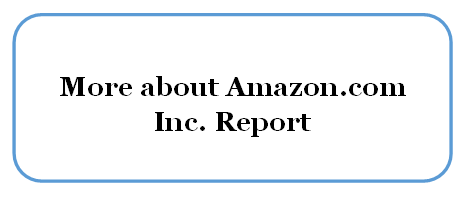 [1] Source Statista (2017)