Apple business strategy can be classified as product differentiation in design and functionality.  Apple business strategy also includes "building and expanding its own retail and online stores and its third-party distribution network to effectively reach more customers and provide them with a high-quality sales and post-sales support experience."[1]As part of its business strategy, Apple "continues to expand its platform for the discovery and delivery of third-party digital content and applications through the iTunes Store"[2]. An intensive international market expansion is another important aspect of Apple business strategy.
According to its business strategy, Apple has adapted advanced features and capabilities of its products and services as bases of its competitive advantage. The list of innovations introduced by Apple include, but not limited to the introduction of iPad, the first device of its kind that stored thousands of songs with a simple shuffle capabilities through songs, development Macintosh, the first computer to use a graphical user interface and the launch of iMac that "ripped up the computer design rule book, doing away with dull beige boxes and instead replacing them with fun, translucent machines in shades such as "Bondi Blue" that hinted at the aesthetic Apple would become so well-known for."[3]
Apple business strategy can be also characterised as vertical integration in a way that the company has advanced expertise in software, hardware, and services at the same time. Apple's vertical integration is one of the major factors that set it apart from the competition. The company has been benefiting from its vertical integration. Specifically, an important source of Apple competitive advantage relates to its ecosystem, which is enabled by such integration.
As it has been illustrated in figure below, Apple devices and software sync easily and work well with each other. Applications work on multiple Apple devices at the same time and there is no much difference in user interfaces; however the same items do not pair with products of other companies, thus creating the likes of a closed ecosystem. Apple's ecosystem creates switching costs for its customers to the competition. The ecosystem also provides the opportunities to leverage relationships with existing customers to offer other products and services.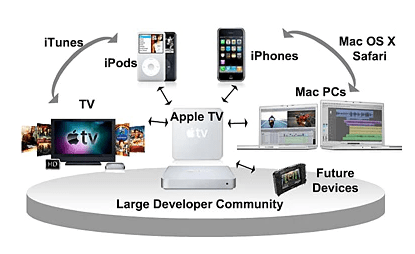 Apple's closed eco-system
First mover advantage is another element of Apple competitive advantage. It has to be stated that Apple competitive advantage may be challenging to be sustained for long-term perspective. Specifically, the management may fail in terms of ensuring the addition of innovative features and capabilities in new versions of its products, thus compromising its competitive advantage.
Apple Inc. Report contains a full analysis of Apple business strategy. The report illustrates the application of the major analytical strategic frameworks in business studies such as SWOT, PESTEL, Porter's Five Forces, Value Chain analysis and McKinsey 7S Model on Apple. Moreover, the report contains analyses of Apple leadership, organizational structure and organizational culture. The report also comprises discussions of Apple marketing strategy and addresses issues of corporate social responsibility.

[1] Annual Report (2015) Apple Inc.
[2] Annual Report (2015) Apple Inc.
[3] Apple's Greatest Innovations (2016) The Telegraph, Available at: http://www.telegraph.co.uk/technology/picture-galleries/6099399/Top-10-Apple-innovations.html