PESTEL is a strategic analytical tool and the acronym stands for political, economic, social, technological, environmental and legal factors. Apple PESTEL analysis involves the analysis of potential impact of these factors on the bottom line and long-term growth prospects.
Political Factors
The extent to which Apple is able to achieve its primary objective of profit maximization depends on a wide range of political factors. The most recent and significant case that illustrates the potential impact of a political factor relates to Apple's battle with US Federal Bureau of Investigations (FBI). Specifically, Apple's dispute with FBI over whether it should be forced to hack an iPhone used by one of the San Bernardino terrorists turned into a political debate dividing the public into two camps – those who support the company and those who oppose it regarding this particular issue.
The amount of political lobbying by the company represents an important element of Apple PESTEL analysis. As it is illustrated in figure below, the company has been consistently increasing its annual political lobbying budget during the past several years to reach USD 4.67 million in 2016. Apple's lobbying efforts are directed at development of legislations that are favourable for the business on long-term perspective.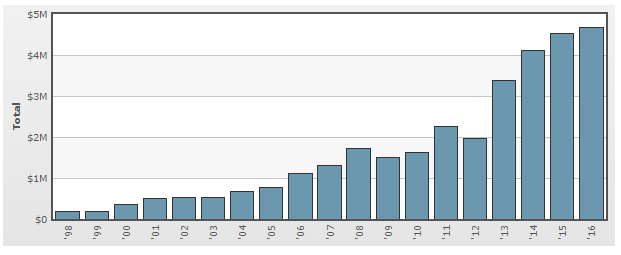 Annual lobbying by Apple Inc.[1]
Apple had to deal with the impacts of political factors in international scale as well. A call by Dmitry Gorotsov, a Member of Parliament in Russia to stop lawmakers in the country "using iPhones and iPads to protect them from eavesdropping by foreign special services"[2] can be referred to as an example where politics interferes with business. Another lawmaker in Russia famous for his harsh approach towards gay propaganda has publicly suggested Apple CEO Tim Cook to be banned from visiting the country due to the latter's public acknowledgement of his homosexuality on October 30, 2014[3].
These cases can be interpreted as a clear illustration of potential impact of a political factor on Apple sales in Russia. It is important to clarify that both cases mentioned above relate to political factors that are associated with Apple in a direct manner. There is a wide range of additional factors such as the impact of international pressure groups, government-level trade restrictions and tariffs and industry-specific government initiatives that that might affect Apple performance along with performance of its competitors. Moreover, the nature of relationship between Apple's home country USA and other countries may impact the company's performance in relevant countries due to the fact that substantial share of revenues are generated outside of the US. Specifically, in 2014, net sales in US amounted to about USD68.9 billion, whereas net sales outside of US exceeded USD113.8 billion[4].
Economic Factors
Apple revenues can be negatively impacted by the general macroeconomic situation in the country. For example, the company reported decline of sales for the first quarter of 2016, its first quarterly sales decline in 13 years partially due to deterioration of the real economy[5]. Moreover, Apple generates about 65 per cent of its total sales from international markets[6] and as such its revenues are negatively affected by the current tendency of strengthening USD. Apple's CEO Tim Cook adopted a currency hedging program in 2014 aimed at easing the negative effects of strengthening USD and the initiative saved the company USD 4.1 billion in fiscal year of  2015.[7] Nevertheless, hedging efforts can only compensate exchange rate losses to a certain extent and the foreign exchange risk for the company is not going away any time soon.
Rising costs of labour is another economic factor that has direct and significant implications on Apple revenues. The company has based its manufacturing units in China due to cost-efficiency of resources in general and cheaper human resources in particular. However, it has to be noted that labour cost in China has more than quadrupled during the last ten years[8] with an inevitable negative implications on Apple's operational costs.
The company is also affected by increasing rate of inflation in the US due to its large amount of cash reserves.  Interestingly, one of many Apple's investors, hedge fund billionaire David Einhorn has attempted to sue the company to force payment of dividends of USD137 billion[9] so that negative impact of inflation could be addressed. Moreover, due to the global scale of its operations, Apple is a net receiver of currencies other than the U.S. dollar. Accordingly, changes in exchange rates, and in particular a strengthening of the U.S. dollar, will negatively affect the Company's net sales and gross margins as expressed in U.S. dollars[10]. Additional range of economic factors that impact Apple growth prospects include taxation rate, changes in prices of resources in general and human resources in particular and others.
Apple Inc. Report contains a full version of Apple PESTEL analysis. The report illustrates the application of the major analytical strategic frameworks in business studies such as SWOT, Porter's Five Forces, Value Chain analysis and McKinsey 7S Model on Apple. Moreover, the report contains analyses of Apple business strategy, leadership, organizational structure and organizational culture. The report also comprises discussions of Apple marketing strategy and addresses issues of corporate social responsibility.

[1] Open Secrets (2017) Available at: https://www.opensecrets.org/lobby/clientsum.php?id=D000021754
[2] Russia Today (2014) Available at: http://rt.com/politics/210675-russian-parliament-iphone-ban/
[3] The Independent (2014) Available at: http://www.independent.co.uk/news/people/news/russian-politician-says-apple-ceo-tim-cook-should-be-banned-from-country-after-coming-out-as-gay-9829670.html
[4] Annual Report (2014) Apple Inc.
[5] Grey, B. (2016) "Apple sales decline points to faultlines in global economy" World Socialist Web Site, Avilable at: https://www.wsws.org/en/articles/2016/04/28/econ-a28.html
[6] Annual Report (2016) Apple Inc.
[7] Adinolfi, J. (2015) "Apple saved USD4.1 billion hedging against a rising dollar, says Stifel" Market Watch, Available at: http://www.marketwatch.com/story/apple-saved-41-billion-hedging-against-a-rising-dollar-says-stifel-2015-12-14
[8] Morris, D. (2015) "Will tech manufacturing stay in China?" Fortune, Available at: http://fortune.com/2015/08/27/tech-manufacturing-relocation/
[9]Neate, R. (2013) "David Einhorn Suing Apple Over Shareholder Cash" The Guardian, Available at: http://www.theguardian.com/technology/2013/feb/07/david-einhorn-apple-shareholder-cash
[10] Annual Report (2014) Apple Inc.