Porter's Five Forces analytical framework developed by Michael Porter (1979)[1] represents five individual forces that shape the overall extent of competition in the industry. These forces are represented in figure below: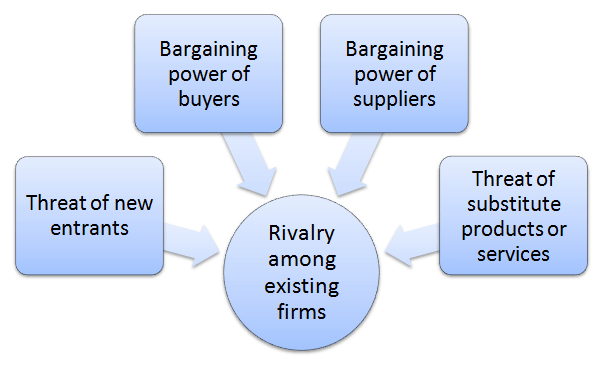 Porter's Five Forces 
Threat of New Entrants in Apple Porter's Five Forces Analysis
Threat of new entrants into consumer electronics industry is not substantial. This is due to the presence of significant entry barriers such as massive capital requirements and necessity to possess intangible assets such as creativity and know-how. Moreover, economies of scale represent a substantial entry barrier to the industry due to the fact that new players will find it difficult to compete with established global brands such as Apple, Samsung, Google and HTC that are able to gain cost advantage via economies of scale.
The time of entry is another factor that can be listed as a barrier for new entrants. Specifically, global consumer technology industry in general and computers and smartphones in particular is highly saturated. Therefore, it will be difficult for new entrants to establish their customer base.
Nevertheless, there is a significant factor in favour of new market entrants and it relates to their innovation potential. To be specific, if new market entrants base their customer value proposition on innovative products and services, they can overcome all market entry barriers discussed above.
Bargaining power of suppliers in Apple Porter's Five Forces Analysis
Bargaining power of suppliers is not significant in general. Although most components essential to Apple are generally available from multiple sources, a number of components are currently obtained from single or limited sources.[2] The company ensures the supply of raw materials and components to cover its need for the period of up to 150 days.[3]
Generally, Apple suppliers can be broadly divided into the following four categories. The table below illustrates the bargaining power of each category
| | | |
| --- | --- | --- |
| Supplier category | Suppliers | Supplier baraining power |
| Processor and computer memory suppliers | Motorola, IBM, Intel… | Considerable |
| Movie and TV program suppliers | Disney, ABC, Fox, Sony… | Low |
| Music suppliers | BMG, Sony, Warner, Universal… | Low |
| Suppliers of parts and components | Acbel Polytech Inc., Cheng Loong Corp., GoerTek Inc… | Low |
 Apple suppliers and their bargaining power
Apple is a major customer for the majority of its suppliers and supplier switching costs for the company is not substantial. Apple started to exercise its bargaining power in its relations with suppliers to a greater extent starting from 2012 by conducting supplier audit checks as part of its corporate social responsibility strategy.
Rivalry among existing firms  in Apple Porter's Five Forces Analysis
Rivalry among existing firms in all markets where Apple operates is fierce. In desktop computing market Apple competes with PCs running Microsoft operating system such as Dell, Asus, Hewlett-Packard and Acer, whereas Apple's major competitors in mobile computing industry are Google, Samsung and Nokia. Moreover, Apple iOS competes with Google Android which runs on most competitor phones and tablets, and Apple's latest service, Apple Pay directly competes with PayPal and Google. Cost leadership has been adopted by the majority of Apple competitors as one of the basis of competitive advantage.
Moreover, an impressive rate of the growth of the industry attracts new market players especially from emerging economies with access to cost-effective resources and this tendency is expected to persist in long-term perspective.  Despite the fierce competition in consumer electronics and e-commerce industry, Apple is one of the acknowledged leaders in the global marketplace. As it is illustrated in figure below, iPhone market share of new smartphone sales in the global market place is almost consistently above 15 per cent since the launch of the product.
Apple iPhone's market share of new smartphone sales worldwide from 2007 to 2017, by quarter[4]
Apple Inc. Report contains a full analysis of Apple Porter's Five Forces Analysis. The report illustrates the application of the major analytical strategic frameworks in business studies such as SWOT, PESTEL, Value Chain analysis, Ansoff Matrix and McKinsey 7S Model on Apple. Moreover, the report contains analyses of Apple leadership, business strategy, organizational structure and organizational culture. The report also comprises discussions of Apple marketing strategy, ecosystem and addresses issues of corporate social responsibility.

[1] Porter, M. (1979) "How Competitive Forces Shape Strategy" Harvard Business Review
[2]Annual Report (2015) Apple Corporation
[3]Annual Report (2015) Apple Corporation
[4] Statista (2018) Available at: https://www.statista.com/statistics/216459/global-market-share-of-apple-iphone/