Alphabet (Google) Marketing Strategy
Alphabet (Google) marketing strategy integrates various online and offline marketing techniques. Alphabet's marketing budgets and efforts mainly focus on main business – Google. It has been noted that "though you'll never see an ad for the king of the search engines, this query behemoth employs some of the most subtle, yet fantastically impressive marketing strategies out there"[1]
Beyond Google, Alphabet Inc. does not invest much resources and efforts to advertise its other projects such as Access, Calico, CapitalG, GV, Nest, Verily, Waymo, and X. This is because most of these projects are only on the stage of research and development and they do not have products and services ready to offer to the market.
As it is illustrated in Figure 4 below, total annual marketing spending of the company has been consistently increasing during the past several years. Out of these amounts, for the years ended December 31, 2014, 2015 and 2016, advertising and promotional expenses totalled approximately USD3,004 million, USD3,186 million, and USD3,868 million, respectively[2].
Annual Alphabet Inc. (Google) marketing spending[3]
Google marketing strategy is based on the following principles:
Within the framework of marketing mix, focusing on product element to a greater extent compared to other elements. The majority of Alphabet products and services are innovative in their nature or they add innovative features to existing products and services.
Targeting the broadest customer segment with multiple products and services. The company's core business, Google offers a wide range of products and services such as Search, Android, Maps, Chrome, YouTube, Google Play, and Gmail that are used by billions of people every day worldwide.
Using several elements of marketing communications mix in an integrated manner. Specifically, the internet giant uses sales promotion, events and experiences, public relations and direct marketing tools to company to communicate its marketing message to the target customer segment.
Alphabet Inc. (Google) Report contains a full analysis of Alphabet (Google) marketing strategy. The report illustrates the application of the major analytical strategic frameworks in business studies such as SWOT, PESTEL, Porter's Five Forces, Value Chain analysis and McKinsey 7S Model on Alphabet Inc. Moreover, the report contains analyses of Alphabet leadership, organizational structure and organizational culture. The report also comprises discussions of Alphabet business strategy and addresses issues of corporate social responsibility.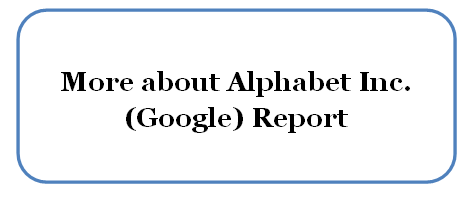 [1] Oberstein, M. (2016) "Google's Success: 3 Winning Brand Marketing Strategies You Can Emulate" Rank Ranger, Available at: https://www.rankranger.com/blog/google-marketing-strategy
[2] Annual Report (2016) Alphabet Inc.
[3] Statista (2017) Available at: https://www.statista.com/statistics/507853/alphabet-marketing-spending/
---
---