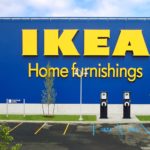 IKEA business strategy is built upon the IKEA concept. The IKEA Concept starts with the idea of providing a range of home furnishing products that are affordable to the many people, not just the few. It is achieved by combining function, quality, design and value – always with sustainability in mind. The IKEA Concept exists in every part of the company, from design, sourcing, packing and distributing through to business model.[1]
The following points constitute integral elements of IKEA business strategy.
1. Offering the lowest prices. Cost effectiveness is one of the solid bases of IKEA competitive advantage. The global furniture retailer is able to offer low prices thanks to a combination of economies of scale and technological integration into various business processes.
2. Increasing variety of products. Great range of products also belongs to the list of IKEA competitive advantages. There are 9500 products across in IKEA portfolio and the company renews its product range annually launching approximately 2,500 new products.[2]  The company is also increasing its presence in food and catering industries. The slogan "It Starts with the Food" was the main theme for company in 2016. In FY 2016 IKEA FOOD turnover that comprises restaurants, bistros, Swedish Food Markets, and co-worker restaurants amounted to EUR 1.7 billion.[3]
3. International market expansion strategy. The home improvement and furnishing chain has traditionally engaged in new market development in an aggressive manner. IKEA Group has 340 stores in 28 markets worldwide, 22 Pick-up and Order Points in 11 countries, 41 Shopping Centres in 15 countries and 38 Distribution sites in 18 countries[4] The company is planning to open stores in India and Serbia in medium term perspective.[5]
IKEA Group Report contains a full analysis of IKEA business strategy. The report illustrates the application of the major analytical strategic frameworks in business studies such as SWOT, PESTEL, Porter's Five Forces, Value Chain analysis and McKinsey 7S Model on IKEA. Moreover, the report contains analyses of IKEA leadership, organizational structure and organizational culture. The report also comprises discussions of IKEA marketing strategy and addresses issues of corporate social responsibility.

[1] The IKEA Concept (2017) IKEA, Available at: http://www.ikea.com/ms/en_US/this-is-ikea/the-ikea-concept/
[2] Group Yearly Summary (2016) IKEA Group
[3] Group Yearly Summary (2016) IKEA Group
[4] Group Yearly Summary (2016) IKEA Group
[5] Group Yearly Summary (2016) IKEA Group