IKEA McKinsey 7S framework explains how individual elements of businesses can be aligned to increase the overall effectiveness. McKinsey 7S framework considers strategy, structure and systems as hard elements, whereas shared values, skills, style and staff are accepted as soft elements. The framework stresses the presence of strong links between elements in a way that a change in one element causes changes in others. As it is illustrated in figure below, shared values represent the core of IKEA McKinsey 7S framework. This is because shared values guide employee behaviour with effects on their performance and ultimately on the bottom line for the business.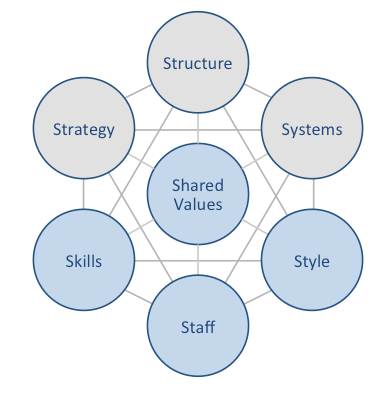 IKEA McKinsey 7S Model
Hard Elements
Strategy.  IKEA business strategy is based on the IKEA Concept, which is built upon the combination of function, quality, design and value – always with sustainability in mind. Moreover, IKEA business strategy involves offering increasing variety of products for the lowest prices. Regular engagement in new market development constitutes another important pillar of IKEA's strategy.
Structure. IKEA has a hierarchical organizational structure due to the massive scope of its business operations. The company runs 340 stores in 28 markets, 22 Pick-up and Order Points in 11 countries, 41 Shopping Centres in 15 countries and 38 Distribution sites in 18 countries globally.[1] At the same, IKEA lacks usual features of hierarchical organizational structure such as slow speed of decision-making and immense role of formal titles and status within the organization.
Systems. IKEA business relies on a set of systems. These include employee recruitment and selection system, team development and orientation system, transaction processing systems, customer relationship management system, business intelligence system, knowledge management system and others. The global furniture retailer subjects each of its systems to critical analysis periodically to identify and utilise potentials for further improvements.
IKEA Group Report contains a full analysis of IKEA McKinsey 7S Model. The report illustrates the application of the major analytical strategic frameworks in business studies such as SWOT, PESTEL, Porter's Five Forces and Value Chain analysis on IKEA. Moreover, the report contains analyses of IKEA leadership, business strategy organizational structure and organizational culture. The report also comprises discussions of IKEA marketing strategy and addresses issues of corporate social responsibility.

[1] Group Yearly Summary (2016) IKEA Group