IKEA McKinsey 7S model explains how individual elements of businesses can be aligned to increase the overall effectiveness. McKinsey 7S framework considers strategy, structure and systems as hard elements, whereas shared values, skills, style and staff are accepted as soft elements. The framework stresses the presence of strong links between elements in a way that a change in one element causes changes in others.
As it is illustrated in figure below, shared values represent the core of IKEA McKinsey 7S framework. This is because shared values guide employee behaviour with effects on their performance and ultimately on the bottom line for the business.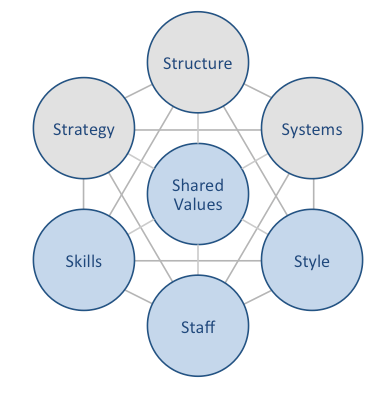 McKinsey 7S model
Hard Elements in IKEA 7S Model 
Strategy
IKEA business strategy is based on the IKEA Concept, which is built upon the combination of function, quality, design and value – always with sustainability in mind. Moreover, the Swedish furniture chain offers cost advantage value for customers. Accordingly, IKEA business strategy involves offering increasing variety of products for the lowest prices. Regular engagement in new market development and benefiting from strategic alliances constitute additional pillars of IKEA business strategy.
Structure
IKEA organizational structure is unique and highly complex. The home improvement and furnishing chain maintains uniqueness and complexity its corporate structure in order to pay less taxes. The company can be divided into three large groups: franchise, range and supply and industry. Large scale of the business that integrates 11 franchisees operating in more than 500 locations in 63 countries[1] necessitates hierarchical organizational structure. Nevertheless, the Swedish furniture chain has proved to be successful in overcoming common weaknesses of hierarchical organizational structure such as high level of bureaucracy and lack of flexibility of the business.
Systems
IKEA business relies on a set of systems. These include employee recruitment and selection system, team development and orientation system, transaction processing systems, customer relationship management system, business intelligence system, knowledge management system and others.
The global furniture retailer subjects each of its systems to critical analysis periodically to identify and utilise potentials for further improvements. Furthermore, the furniture retailer generates the biggest value from manufacturing and product delivery systems in a way that flat-pack furniture delivery system pioneered by IKEA is one of the main factors that enable low costs of the products.
IKEA Group Report contains a full analysis of IKEA McKinsey 7S Model. The report illustrates the application of the major analytical strategic frameworks in business studies such as SWOT, PESTEL, Porter's Five Forces, Ansoff Matrix and Value Chain analysis on IKEA. Moreover, the report contains analyses of IKEA leadership, business strategy organizational structure and organizational culture. The report also comprises discussions of IKEA marketing strategy, ecosystem and addresses issues of corporate social responsibility.

[1] Inter IKEA Holding B.V. Annual report FY21 
---
---