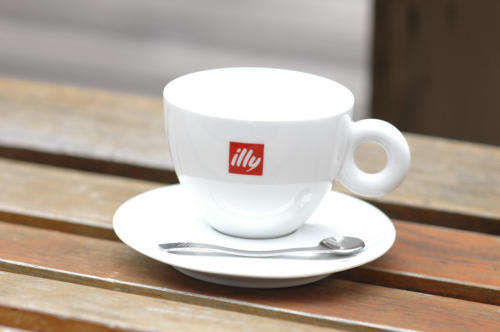 The nature and level of utilisation of marketing strategy by Illy in general and 'Illy's and Boos Cupcakery' in Bristol in particular can be effectively explained by utilising the concept of marketing communications mix.
Kotler and Keller (2006) divide elements of marketing communication mix into large six groups that consist of advertising, sales promotion, events and experiences, public relations and publicity, direct marketing and personal selling.
Marketing strategy developed by Illy aims to communicate Italian origins of the brand and perceived high quality of products through integration of various marketing communication channels as explained below in a greater details.
Advertising
Generally, any form of external communication of a business entity can be categorised as advertising. Indoor and outdoor posters, and attractive displays at the point of purchase are the most popular advertising methods used by 'Illy's and Boos Cupcakery' in Bristol.
Illy advertising strategy makes an extensive use of print and broadcast advertising in a global scale. Popular social networking site YouTube is one of the main platforms for Illy media advertisements.
Sales Promotions
The main objectives behind sales promotions can be specified as offering short-term price incentives to customers in order to increase the volume of sales. 'Illy's and Boos Cupcakery' in Bristol engages in sales promotions in a regular manner through temporarily reducing prices for different products.
Moreover, Illy engages in occasional sales promotion campaigns through sending promotion offers to customers' e-mails, including complimentary item with the purchase of specific range of products. Also, unlike many other coffee chains, barristers at Illy are taught to welcome occasions when they are asked for a coffee sample for free.
Events and Experiences
'Illy's and Boos Cupcakery' in Bristol does not engage in events and experiences due to the small size of the venue and budget limitations. However, Illy brand in general engages in a wide range of events and experiences for marketing purposes.
Partnership with Coffee Cluster Expo 2015 in Milan and organising Illy Barista Contest 2012 in Tokyo, Japan can be mentioned to name just a few. However, in 'Illy's and Boos Cupcakery' retail outlet specifically, events and experiences for marketing purposes are rare occasions.
Public Relations and Publicity
Public relations and publicity as one of the most popular forms of marketing strategy relate to initiating relationships with various stakeholder groups and maintaining these relationships for marketing purposes.
Annual publication of Illy Sustainability Value Report is a major publicity instrument for the company. Moreover, the official website of the company plays in instrumental role in facilitation of public relations and publicity.
'Illy's and Boos Cupcakery' as an individual retail outlet does not engage in public relations and publicity initiatives for the purposes of marketing.
Direct Marketing
Direct marketing involves a direct communication between seller and the end consumer which can be facilitated in various platforms such as telephone, internet, catalogues, television and others.
The use of direct marketing by Illy is limited to online selling facilitated through official website of the company. At the same time, there are no direct marketing practices within 'Illy's and Boos Cupcakery'
Personal Selling
In personal selling sales agents initiate presentations to representatives of target customer segment in order to make a sale. This specific form of marketing may prove to be highly effective in terms of establishing personal communication with consumers, however, this method is expensive, and thus it is mainly used to market high value items.
Neither 'Illy's and Boos Cupcakery' in Bristol, nor Illy brand in general engage in personal selling initiatives. The reasons for this stem from low prices of each individual Illy products, specifications of coffee industry, as well as, the chosen business strategy of Illy.
---
---