PepsiCo McKinsey 7S Model
PepsiCo McKinsey 7S framework explains how important elements of businesses can be aligned to increase the overall effectiveness. According to McKinsey 7S framework, strategy, structure and systems are hard elements, whereas shared values, skills, style and staff represent soft elements of businesses. The essence of the framework can be explained in a way that a change in one element causes changes in others. As it is illustrated in Figure 1 below, shared values are positioned at the core of PepsiCo McKinsey 7S framework, since shared values guide employee behavior with implications in their performance.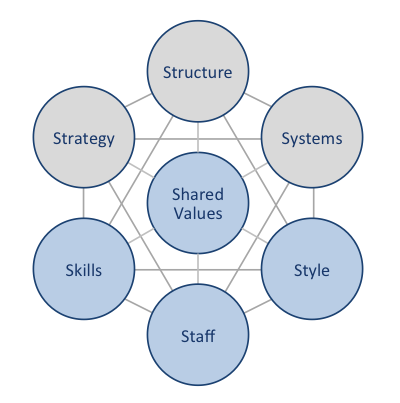 Figure 1 McKinsey 7S Framework
Hard Elements
Strategy. PepsiCo business strategy integrates the following six principles:
Achieving growth through mergers and acquisitions (M&A)
Forming strategic alliances in global scale
Focusing on emerging markets
Focusing on organizational culture
Developing and promoting the idea of One PepsiCo
Innovation in marketing initiatives
Moreover, as it is illustrated in Figure 2 below, the level of consumption of carbonated drinks in the US has been consistently declining for the last ten years and this tendency is expected to continue for the foreseeable future. PepsiCo strategy reflects this important tendency and accordingly, the company has been increasing its portfolio to include food and snacks product categories to decrease the dependency of the business on sodas and carbonated drinks.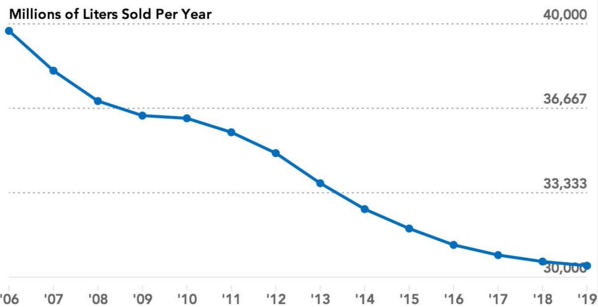 Figure 2 The decline of millions of liters of soda sold in the US[1]
Along with strong financial performance, numerous customer awards is a convincing indicator of appropriateness and effectiveness of PepsiCo business strategy. The list of awards won during the year of 2015 alone include Innovation Supplier of the Year from 7-Eleven, Vendor of the Year from Dollar General, the Think Customer Award from CVS, Supplier of the Year from Target, and Food & Beverage Supplier of the Year from Walmart.[2]
Structure. PepsiCo has a divisional organizational structure and the business is divided into six divisions. Each division is led by a divisional CEO, who report to PepsiCo CEO and Chairman Indra K. Nooyi. The company comprises the following divisions:
Frito-Lay North America (FLNA)
Quaker Foods North America (QFNA)
Latin America
Asia, Middle East & North America (AMENA)
Europe & Sub-Saharian Africa (ESSA)
North America Beverages (NAB)
Systems. PepsiCo business operations rely on a wide range of systems such as employee recruitment and selection system, performance appraisals system, quality control system, complaint handling system and others. The most noteworthy systems employed by the company also include Smart Spending policies to rein in expenses and Lean Six Sigma training to cut waste and boost efficiency.[3]..
PepsiCo Inc. Report contains a detailed discussion of PepsiCo McKinsey 7S framework. The report also illustrates the application of the major analytical strategic frameworks in business studies such as SWOT, PESTEL, Porter's Five Forces, Value Chain analysis and on PepsiCo. Moreover, the report contains analysis of PepsiCo's marketing strategy, leadership and organizational structure and discusses the issues of corporate social responsibility.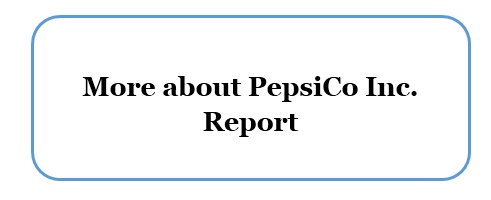 [1] Source: Euromonitor International
[2] Annual Report (2015) PepsiCo
[3] Annual Report (2015) PepsiCo
---
---