Red Bull McKinsey 7S Model
Red Bull McKinsey 7S framework explains how seven key elements of businesses can united to increase the overall effectiveness of the company. According to Red Bull McKinsey 7S framework strategy, structure and systems represent hard elements, whereas shared values, skills, style and staff are soft elements. As it is illustrated in figure below, shared values are positioned at the core of Red Bull McKinsey 7S framework, since shared values guide employee behaviour with implications in their performance.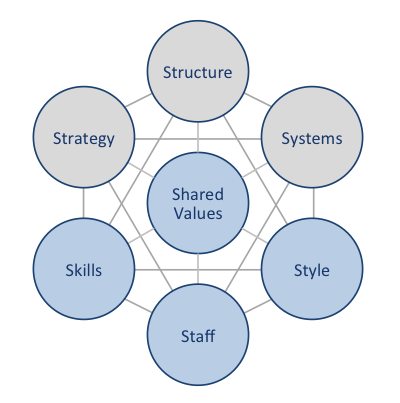 Red Bull McKinsey 7S Framework
Hard Elements
Strategy. Red Bull pursues the business strategy of product differentiation. The company differentiates its energy drinks according to the perception of 'Red Bull gives you wings'. Specifically, according to the company's marketing message, consumption of Red Bull energy drinks result in enhanced mental and physical performance. Benefiting from first mover advantage and an extensive reliance on marketing also represent important elements of Red Bull business strategy.
Structure. Red Bull organizational structure can be described as divisional and company runs two business divisions: Red Bull soft drinks and other businesses. Red Bull soft drinks division comprises Red Bull Energy drinks (regular, sugar free, zero calories and Red Bull editions) and Red Bull Simply Cola. Other business division, on the other hand, comprises motor racing, media, MVNO and fashion online retailing.
Systems. Main systems that run Red Bull GmbH include information system, HR system, financial system, quality management system and others. The management attempts to achieve a close integration between individual systems within the organization in order to increase the overall effectiveness of the company…
Red Bull GmbH Report contains a detailed discussion of Red Bull McKinsey 7S framework. The report also illustrates the application of the major analytical strategic frameworks in business studies such as SWOT, PESTEL, Porter's Five Forces, Value Chain analysis and on Red Bull. Moreover, the report contains analysis of Red Bull's marketing strategy, leadership and organizational structure and discusses the issues of corporate social responsibility.

---
---