Samsung McKinsey 7S Model
Samsung McKinsey 7S model attempts to explain how seven individual elements of the business can be aligned to increase effectiveness.  According to this model strategy, structure and systems represent hard elements, whereas shared values, skills, style and staff are soft elements. McKinsey 7S model argues that there are strong links between elements in a way that a change in one element causes changes in others. As it is illustrated in figure below, shared values are positioned at the core of Samsung McKinsey 7S model, since shared values guide employee behaviour with implications in their performance.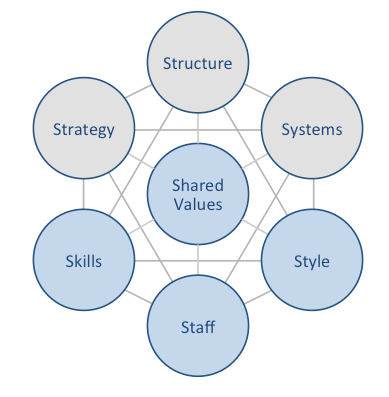 Samsung McKinsey 7S model
Hard Elements
Strategy.  Samsung business strategy is mainly based on market readership, i.e. replicating innovations made by market leaders in terms of introducing new products and/or adding innovative features to new products. Samsung's major competitor, Apple can be specified as company Samsung mainly replicates from. Moreover, Samsung business strategy is based upon scanning and utilising opportunities in the market and new product development on a regular basis.
Structure.  Samsung organizational structure is divisional and the company is divided into three divisions on the basis of products: IT & Mobile Communications (IM), Consumer Electronics (CE), and Device Solutions (DS). Each division is managed separately according to unique aspects and characteristics of its products. As the outcome of review of optimal organizational structure completed on April 2017, the senior management decided not to shift to holding pattern of organizational structure.
Nevertheless, Samsung organizational structure may change in medium term perspective. This is due to a series of scandals the company had to deal with recently, including the imprisonment of Jay Y. Lee, a former Samsung executive and founding family member for his role in bribery and embezzlement.
Systems. Samsung's long-term growth prospects depend on smooth running of a wide range of systems. These include employee recruitment and selection system, team development and orientation system, transaction processing systems, customer relationship management system, business intelligence system, knowledge management system and others. Samsung conducts regular evaluation of its processes and systems to find and use opportunities for improvements with positive implications on the bottom line.
Samsung Group Report contains a full analysis of Samsung McKinsey 7S Model. The report illustrates the application of the major analytical strategic frameworks in business studies such as SWOT, PESTEL, Porter's Five Forces and Value Chain analysis on Samsung. Moreover, the report contains analyses of Samsung leadership, business strategy organizational structure and organizational culture. The report also comprises discussions of Samsung marketing strategy and addresses issues of corporate social responsibility.

---
---