Howard Schultz has been at the helm of Starbucks leadership for more than two decades in total. He is rightly credited for making the business the world's largest coffee retailer with 12,711 company-operated stores and 12,374 licensed stores in 75 countries employing 254,000 people[1]
Leadership style exercised at Starbucks can be classified as servant leadership and it has been efficiently applied by Howard Schultz. Employees are placed at the centre of the business and their contribution is generously compensated in tangible and intangible means. "One former Starbucks worker noted that "nobody at Starbucks ever ordered anyone to do anything. It was always: 'Would you do me a favor?' Or something similar."[2]
On December 1, 2016, Howard Schultz announced he would resign as CEO of Starbucks in, 2017 and will be replaced by Kevin Johnson. This change became effective on April 3, 2017 with Kevin Johnson assuming Starbucks leadership role in the position of CEO.
It has been noted that Kevin Johnson is not afraid not make big changes; he prioritizes employees and sees technology as a crucial part of business.[3]  Kevin Johnson admitted having 'venti-sized shoes to fill" referring to successful leadership by Howard Schultz.  At the same time, the new CEO stated "I'm not going to fall into the trap of trying to be Howard. I'm going to be authentic to who I am as a person and who I am as a leader"[4]. Nevertheless, servant leadership practice can be expected to persist at Starbucks under the leadership by Kevin Johnson.
Starbucks senior leadership team is massive with 35 senior vice presidents, 12 executive vice presidents, 3 presidents and 2 group presidents. The company's Board of Directors comprises 12 members chaired by Howard Schultz. Additionally, the coffee chain giant has three committees – Audit and Compliance Committee (5 members), Compensation and Management Development Committee (5 members) and Nominating and Corporate Governance Committee (6 members).
Starbucks Corporation Report contains a full analysis of Starbucks leadership. The report illustrates the application of the major analytical strategic frameworks in business studies such as SWOT, PESTEL, Porter's Five Forces, Value Chain analysis and McKinsey 7S Model on Starbucks. Moreover, the report contains analyses of Starbucks business strategy, organizational structure and organizational culture. The report also comprises discussions of Starbucks marketing strategy and addresses issues of corporate social responsibility.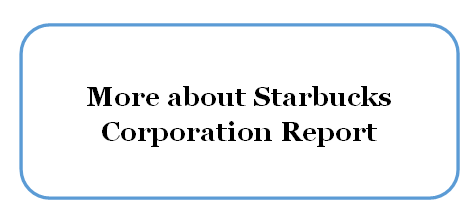 [1] Fiscal 2016 Annual Report (2017) Starbucks Corporation
[2] Leinward P. & Davidson, V. (2016) "How Starbucks's Culture Brings Its Strategy to Life" Harvard Business Review, Available at: https://hbr.org/2016/12/how-starbuckss-culture-brings-its-strategy-to-life
[3] Ward, M. (2017) "3 ways CEO Kevin Johnson's leadership style could shape Starbucks" CNBC, Available at: http://www.cnbc.com/2017/04/03/3-things-you-need-to-know-about-new-starbucks-ceo-kevin-johnson.html
[4] New Starbucks CEO Kevin Johnson on Employing Teamwork to Fill "Venti-Sized Shoes" (2017) Starbucks Newsroom, Available at: https://news.starbucks.com/news/starbucks-ceo-kevin-johnson