Starbucks McKinsey 7S model is used to highlight the ways in which seven elements of businesses can be aligned to increase effectiveness.  According to this model, strategy, structure and systems represent hard elements. At the same time, shared values, skills, style and staff are soft elements. McKinsey 7S model stresses the presence of strong links between elements. Specifically, a change in one element causes changes in other elements. As it is illustrated in figure below, shared values are positioned at the core of Starbucks McKinsey 7S model, since shared values guide employee behaviour with implications in their performance.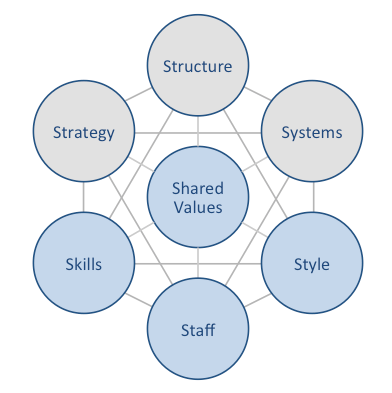 Starbucks McKinsey 7S Model
Hard Elements
Strategy. Starbucks business strategy is based on product differentiation with the focus on the quality of products and services. Moreover, the coffee chain giant effectively positions Starbucks stores as a 'third place' away from home and work, where customers can meet friends, relatives or spent time alone. Technological innovations and intensive integration of technology into various business processes in general and ordering process in particular represent another important aspect of Starbucks business strategy. The launch of Mobile Order & Pay feature, which allows customers to buy without getting in line, the launch of voice ordering app and "sending text message notifications to customers in the Seattle area when their mobile orders are ready"[1] can be mentioned to illustrate this point.
Structure.  Starbucks Corporation has a divisional organizational structure and integrates geographic and brand-based divisions. The coffee chain giant's geographic divisions include Americas (US, Canada and Latin America), Europe, Middle East and Africa (EMEA), China/Asia Pacific (CAP) Channel Development and all other segments. Brand-based divisions of the company consist of Starbucks, Teavana®, La Boulange®, , Evolution Fresh™, Seattle's Best Coffee and Tazo Tea brands.Starbucks organizational structure is tall and it comprises 35 senior vice presidents, 12 executive vice presidents, 3 presidents and 2 group presidents.
Systems. There is a wide range of systems that facilitate day-to-day business of the world's largest coffee retailer. These include, but not limited to employee recruitment and selection system, team development and orientation system, transaction processing systems, customer relationship management system, business intelligence system, knowledge management system and others. Starbucks is also successfully integrating mobile ordering system. Currently, more than 8% of orders are done via mobile phones[2] and this tendency is expected to increase in the foreseeable future.
Starbucks Corporation Report contains a full analysis of Starbucks McKinsey 7S Model. The report illustrates the application of the major analytical strategic frameworks in business studies such as SWOT, PESTEL, Porter's Five Forces and Value Chain analysis on Starbucks. Moreover, the report contains analyses of Starbucks leadership, business strategy organizational structure and organizational culture. The report also comprises discussions of Starbucks marketing strategy and addresses issues of corporate social responsibility.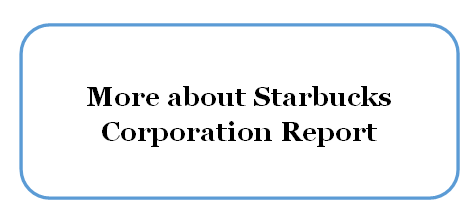 [1] Peterson, H. (2017) "Starbucks is testing a new technology to solve its crisis of long lines and delays" Business Insider, Available at: http://www.businessinsider.com/starbucks-sends-text-messages-to-fix-long-lines-in-stores-2017-3
[2] Taylor, K. (2017) "There's one huge factor shaping Starbucks and Dunkin' Donuts' 'coffee shop of the future' Business Insider, Available at: http://www.businessinsider.com/mobile-shapes-future-coffee-shops-2017-3