Starbucks Organizational Culture: Focus on employees as the source of core competency
Starbucks organizational culture is based on values and principles of its former long-term CEO Howard Schultz.  It has been noted that "Starbucks' culture is powerful because it is tightly linked to the company's distinctive capabilities[1]." Starbucks organizational culture integrates the following four key elements:
1. Valuing employees and their contribution. At Starbucks employees are referred to as partners and they are taken care of by the company via competitive compensation packages. For example, the coffee chain offers stock options and health insurance even to part-time employees in the US. Moreover, "at the height of the global financial crisis, when other companies were cutting HR costs wherever they could, Starbucks invested in staff training, including coffee tastings and courses that ultimately qualified for credit at higher education institutions"[2]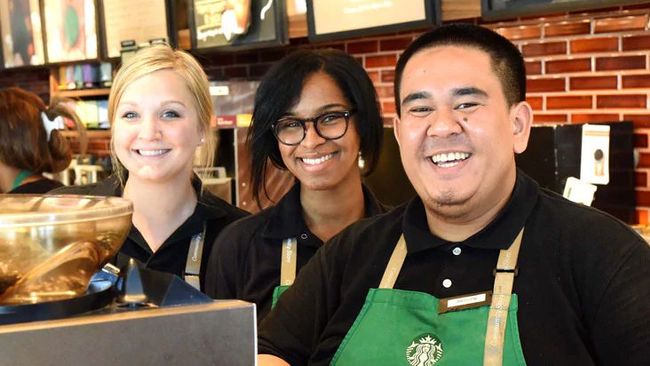 2. Presence of close bonds among employees. The company firmly believes in relationship-driven approach to the business and encourages the formation of close bonds between employees in its stores. One can easily witness the presence of close bonds among employees by simply observing their interaction in any store belonging to the Seattle-based international coffee chain. This contributes to the formation of relaxing and comfortable environment in Starbucks store, effectively strengthening its role as 'third place' away from work and home, where customers can spend good time alone or with their friends.
3. Culture of inclusion and diversity. Embracing inclusion and diversity is placed at the core of Starbucks corporate culture. The world's largest coffee retailer runs 12 diverse Partner Networks, representing the broad spectrum of employee backgrounds. These include Armed Forces Network, Black Partner Network, Disability Advocacy Network and others. The multinational chain of coffeehouses received 100% score on the Disability Equality Index. The principles of inclusion and diversity prevail not only among the workforce, but also have reflections on customer services as well. Minorities and people from all races, status and background feel comfortable and equally well treated in any store belonging to Seattle-based international coffee chain.
4. Taking pride in providing exceptional customer service. The coffee chain giant has effectively adapted exceptional customer service is one of its solid bases of competitive advantage and this is reflected on Starbucks organizational culture to a great extent.  It is common for baristas to know the name of regular customers and greet customers by their names.
It is important to note that the other key elements of Starbucks organizational structure listed above such as valuing employee contribution, close bonds among employees, culture of inclusion and diversity play instrumental role in terms of motivating employees to provide exceptional customer service.
Starbucks Corporation Report contains the above analysis of Starbucks organizational culture. The report illustrates the application of the major analytical strategic frameworks in business studies such as SWOT, PESTEL, Porter's Five Forces, Value Chain analysis, Ansoff Matrix and McKinsey 7S Model on Starbucks. Moreover, the report contains analyses of Starbucks leadership, organizational structure and business strategy. The report also comprises discussions of Starbucks marketing strategy, ecosystem and addresses issues of corporate social responsibility.

[1] Leinward P. & Davidson, V. (2016) "How Starbucks's Culture Brings Its Strategy to Life" Harvard Business Review, Available at: https://hbr.org/2016/12/how-starbuckss-culture-brings-its-strategy-to-life
[2] Leinward P. & Davidson, V. (2016) "How Starbucks's Culture Brings Its Strategy to Life" Harvard Business Review, Available at: https://hbr.org/2016/12/how-starbuckss-culture-brings-its-strategy-to-life
---
---