Starbucks organizational structure can be classified as divisional and the business is divided into the following divisions:
1. Geographic divisions. Starbucks operations are divided into the following geographic divisions or segments:
Americas (US, Canada and Latin America)
Europe, Middle East and Africa (EMEA)
China/Asia Pacific (CAP)
Channel Development
All other segments
2. Brand-based divisions. Each brand within Starbucks Corporation portfolio represents a separate division led by the head of division. As of April 2017, the company has the following six brand-based divisions as illustrated in table below:
| | | |
| --- | --- | --- |
| Brand | Founded | Products |
| Starbucks | 1971 | Coffee, non-alcoholic beverages, food |
| Teavana® | 1997 | Variety of teas |
| La Boulange® | 1999 | French pastries and breads |
| Evolution Fresh™ | 1992 | Nourishment juices and foods |
| Seattle's Best Coffee | 1991 | Coffee, non-alcoholic beverages, food |
| Tazo Tea | 1994 | Teas, herbs, roots and spices |
Brand-based divisions within Starbucks organizational structure
On December 1, 2016 a new format of Starbucks organizational structure was announced according to which Kevin Johnson, president and COO and member of the Starbucks Board of Directors, would expand his responsibilities and assume the role and responsibilities of president and chief executive officer, effective April 3, 2017[1].
Figure below illustrates Starbucks organizational structure at the executive level as of April 2017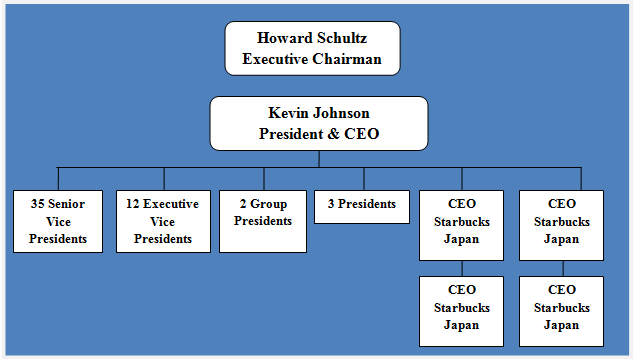 Starbucks Organizational Structure
The current pattern of Starbucks organizational structure is expected to be subjected to changes to a certain extent by the new CEO Kevin Johnson, as business analysts note that Johnson is not afraid to make big changes.[2] Specifically, as it is illustrated in Figure 1 above, comprising 35 senior vice presidents and 12 executive vice presidents, Starbucks organizational structure is highly hierarchical. Kevin Johnson may attempt to reduce de-layering initiatives within the organizational structure in order to make the coffee retailer more flexible to be able to faster adapt changes in the global marketplace.
Starbucks Corporation Report contains a full analysis of Starbucks organizational structure. The report illustrates the application of the major analytical strategic frameworks in business studies such as SWOT, PESTEL, Porter's Five Forces, Value Chain analysis and McKinsey 7S Model on Starbucks. Moreover, the report contains analyses of Starbucks leadership, business strategy and organizational culture. The report also comprises discussions of Starbucks marketing strategy and addresses issues of corporate social responsibility.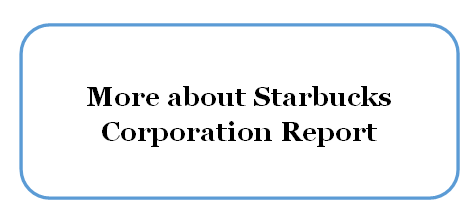 [1] Starbucks Newsroom (2016) Starbucks Corporation, Available at: https://news.starbucks.com/news/starbucks-announces-new-leadership-structure
[2] Ward, M. (2017) "3 ways CEO Kevin Johnson's leadership style could shape Starbucks" CNBC, Available at: http://www.cnbc.com/2017/04/03/3-things-you-need-to-know-about-new-starbucks-ceo-kevin-johnson.html