PESTEL is a strategic analytical tool and the acronym stands for political, economic, social, technological, environmental and legal factors. Starbucks PESTEL analysis involves an analysis of potential impact of these factors on the bottom line and long-term growth prospects.
Political Factors in Starbucks PESTEL Analysis
Starbucks sales are affected by a wide range of political factors, directly and indirectly. The patterns of sourcing raw materials have evolved into a significant political factor that affects the business in a direct manner. Specifically, nowadays it has become compulsory for Starbucks and other global businesses to engage in sourcing of raw materials complying to environmental and social norms that are becoming stricter. Neglecting such norms intentionally or unintentionally are likely to cause political pressure on the business.
Government attitude towards the business is another significant political factor effecting companies. Tax scandal faced by Starbucks in the UK can be mentioned to illustrate the impact of such a factor. Once it was revealed that Starbucks paid no corporation tax for 15 years since its launch in the country until 2014, Public Accounts Committee of the UK Government launched an investigation and questions were raised in the Parliament damaging the brand image. Although, according to Starbucks management, the company broke no rules, the UK Government made the company to pay GBP 20 million, an obligation that was completed by the company by December 2014.[1]
"Skip Starbucks Saturday" boycott can be referred to as another example for an impact of a political factor. Initiated by Gun Control Advocacy Group, the boycott appealed to people to avoid visiting Starbucks stores in the US on Saturday August 2013 due to the gun policy of the company. It has been noted that "Starbucks is a unique company with regard to its gun policy in that it allows customers to carry loaded weapons in stores where permitted by state law rather than imposing a blanket gun-free zone policy"[2]. Moreover, it has been argued that Starbucks "has now been used as a symbol of the gun rights debate by both sides of issue"[3], marking a political turn of the incident.
Starbucks performance can also be affected by the level of relationships between the USA and countries that produce coffee beans, as well as, countries where Starbucks operates. Additional political factors affecting the business include political stability in the country, the impact of home market lobby groups and a wide range of non-government organizations.
Although external political factors are beyond the control of the company, Starbucks engages in political lobbying activities in cooperation with firms such as K&L Gates and Monument Policy Group to contribute to the formation of political environment favourable for its business in the US. The figure below illustrates variations in Starbucks lobbying budget.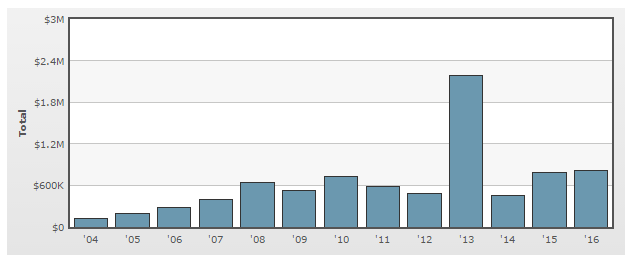 The amount of political lobbying by Starbucks Corporation as an important element of political factors[4]
Economic Factors in Starbucks PESTEL analysis
The impact of economic factors on Starbucks revenues is usually direct and paramount. Consumer buying power as a reflection of overall economic situation in the country is one of the most significant economic factors that determine Starbucks profitability.  The economic crisis of 2007 – 2009 had derailed the consumer spending power to a significant extent, noticeably deceasing Starbucks revenues. Specifically, by March 2008, Starbucks revenues decreased by 28 per cent compared to the previous period and the company had to close about 900 stores and lay off 6,700 employees as a direct consequence of the crisis.
Currency exchange rate is another important economic factor Starbucks has to deal with. In simple terms, as USD increases in value revenues generated in foreign markets in local currencies buy fewer USD, thus diminishing the total profits. For example, strengthening USD caused the decline of total revenues by 2 per cent in 2015. During the first quarter of 2015 alone, unfavourable exchange rates decreased Starbuck's revenues by USD 92 million.[5] Moreover, the volume of Starbucks revenues is subject to interest rates, levels of inflation, unemployment rate and a range of other economic factors.
Furthermore, an increase in the prices of raw materials, specifically, coffee beans is one of the most significant external economic factors for the company. In summer 2016 Starbucks "raised the price of some items as much as 30 cents as it contends with rising coffee costs"[6]…
Starbucks Corporation Report contains a full version of Starbucks PESTEL analysis. The report illustrates the application of the major analytical strategic frameworks in business studies such as SWOT, Porter's Five Forces, Value Chain analysis and McKinsey 7S Model on Starbucks. Moreover, the report contains analyses of Starbucks business strategy, leadership, organizational structure and organizational culture. The report also comprises discussions of Starbucks marketing strategy and addresses issues of corporate social responsibility.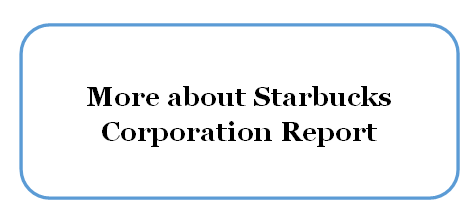 [1] Neville, S. (2014) Independent, Available at: http://www.independent.co.uk/news/business/news/starbucks-completes-20-million-tax-payment-as-coffee-chain-seeks-to-put-scandal-behind-9896360.html
[2]Barkoukis, L. (2013) Townhall, Available at: http://townhall.com/tipsheet/leahbarkoukis/2013/08/23/skip-starbucks-saturday-guncontrol-group-protesting-coffee-giants-gun-policy-this-weekend-n1672120
[3]Winograd, D. (2013) Huffington Post, Available at: http://www.huffingtonpost.com/2013/08/23/skip-starbucks-saturday_n_3800127.html
[4] Open Secrets (2017) Available at: https://www.opensecrets.org/lobby/clientsum.php?id=D000037780
[5] Maze, J. (2015) Nation's Restaurant News, Available at: http://nrn.com/corporate-news/restaurant-finance-watch-strong-dollar-takes-toll-global-restaurant-chains
[6] Wahba, P. (2016) "Your Starbucks Coffee Is Getting Pricier Today" Fortune, Available at: http://fortune.com/2016/07/12/starbucks-prices-coffee/