Xiaomi Business Strategy: competitive costs and large ecosysem
Xiaomi business strategy can be classified as cost leadership. According to its founder and CEO Lei Jun, Xiaomi was founded on the belief that "high-quality technology doesn't need to cost a fortune."[1] Accordingly, the company offers smartphones and other internet-technology products and services for affordable prices.
On a wider perspective, Xiaomi business strategy is based on the following four pillars:
1. Gathering and utilising a large fan base. Xiaomi has a large fan base involving millions of people across the globe. Fans spend countless hours online discussing Xiaomi products on various forums, thus increasing the level of brand awareness with no extra cost for the company. The mobile internet company enjoys cult-like following, the same way as its major competitor Apple.
According to its business strategy, Xiaomi fosters, develops and encourages its fans via Mi Fan Festivals that involves discounts and gifts. The motto of the company is "Just for Fans" and the company is also known to recruit its new employees among Mi Fans.
2. Designing great products at a reasonable price. Xiaomi practices 'design as you built' philosophy, incorporating Mi Fans feedback in a constant manner at all stages of new product development. Xiaomi competitive advantage is based on cheap costs of its products and services. In simple terms, cheap costs of Xiaomi products and services is the main reason for consumers buying those products and services.
3. Constant optimization of products through eco-chain. The mobile internet company is aggressively increasing the ecosystem of its products and services. This is another important aspect of Xiaomi business strategy. Currently, Xiaomi ecosystem comprises 55 companies including 29 companies which were incubated from the ground up by Xiaomi.[2] The ecosystem produces ever-increasing range of products ranging from smartphones to rice cookers.
4. Xiaomi Triathlon: Hardware+New Retail+Internet. As it is illustrated in Figure 1 below, Xiaomi Triathlon sources of revenues consist of hardware, new retail and internet. Xiaomi positions itself as an internet and software company to a greater extent than a hardware company.
The company perceives the sales of hardware as a means to deliver software and services in the long-term perspective.  Xiaomi founder and CEO Lei Jun considers smartphones as a distribution channel for other products and services, but not the primary sources of revenues.  Nevertheless, currently around 80% of the company's revenues are generated from selling smartphones.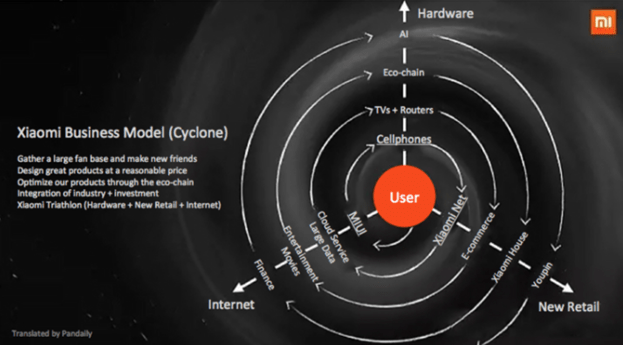 Xiaomi business model map[3]
Xiaomi Inc. Report contains a full analysis of Xiaomi business strategy. The report illustrates the application of the major analytical strategic frameworks in business studies such as SWOT, PESTEL, Porter's Five Forces, Value Chain analysis, Ansoff Matrix and McKinsey 7S Model on Xiaomi. Moreover, the report contains analyses of Xiaomi leadership, organizational structure and organizational culture. The report also comprises discussions of Xiaomi marketing strategy, ecosystem and addresses issues of corporate social responsibility.

[1] About Us (2018) MI, Available at: http://www.mi.com/en/about/
[2] Liao, R. (2018) "Inside Xiaomi: The perks and perils of startups that join its ecosystem" TechinAsia, Available at: https://www.techinasia.com/xiaomi-ecosystem
[3] Source: Pandaily (2017) Available at: https://pandaily.com/xiaomi-ceo-lei-jun-how-xiaomi-turned-the-tables/
---
---