Starbucks marketing strategy is based on the following principles:
1. Focus on product and place elements of the marketing mix. Marketing mix comprises 7 elements – product, place, price, promotion, process, people and physical evidence. Businesses choose to concentrate on one or two elements as their sources of competitive advantage according to their business strategy. Accordingly, Starbucks marketing mix focuses on product element through offering foods and beverages of high quality and providing respective level of service. Place element of the marketing mix represents an additional source of Starbucks competitive advantage in a way that stores are usually located at high-traffic, high-visibility locations.
Customer segmentation and targeting premium customer segment. The world's largest coffee retailer targets males and females from middle and upper class who can afford expensive prices of Starbuck products for regular consumption. The company uses mono-segment, adaptive and standby product positioning techniques in order to appeal to the needs and wants of the target customer segment.
Integrated application of multiple marketing communication channels. Starbucks marketing communications mix utilises a number of marketing communications channels such as print and media advertising, sales promotions, events and experiences, public relations and direct marketing in an integrated manner to communicate the marketing message to the target customer segment.
Consistent increase of the marketing budget to implement the above measures and initiatives. Starbucks has been consistently increasing its marketing budget for a number of years. Starbucks marketing expenses totalled USD378.7 million, USD351.5 million and USD315.5 million in fiscal 2016, 2015, and 2014, respectively. These include advertising expenses which totalled USD248.6 million, USD227.9 million and USD198.9 million in fiscal 2016, 2015, and 2014, respectively.[1]
Starbucks Corporation Report contains a full analysis of Starbucks marketing strategy. The report illustrates the application of the major analytical strategic frameworks in business studies such as SWOT, PESTEL, Porter's Five Forces, Value Chain analysis and McKinsey 7S Model on Starbucks. Moreover, the report contains analyses of Starbucks leadership, organizational structure and organizational culture. The report also comprises discussions of Starbucks business strategy and addresses issues of corporate social responsibility.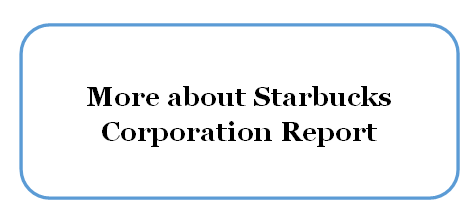 [1] Fiscal 2016 Annual Report (2017) Starbucks Corporation